WHAT'S NEW
<< ALL POSTING IS IN THE MIDST OF MIGRATING TO:
http://singaporekites.blogspot.com >>
OR visit http://singaporekites.com >>
All About Kites! at Yew Tee Point
March 12-18, 2012

Come join the fun with kites at Yew Tee Point.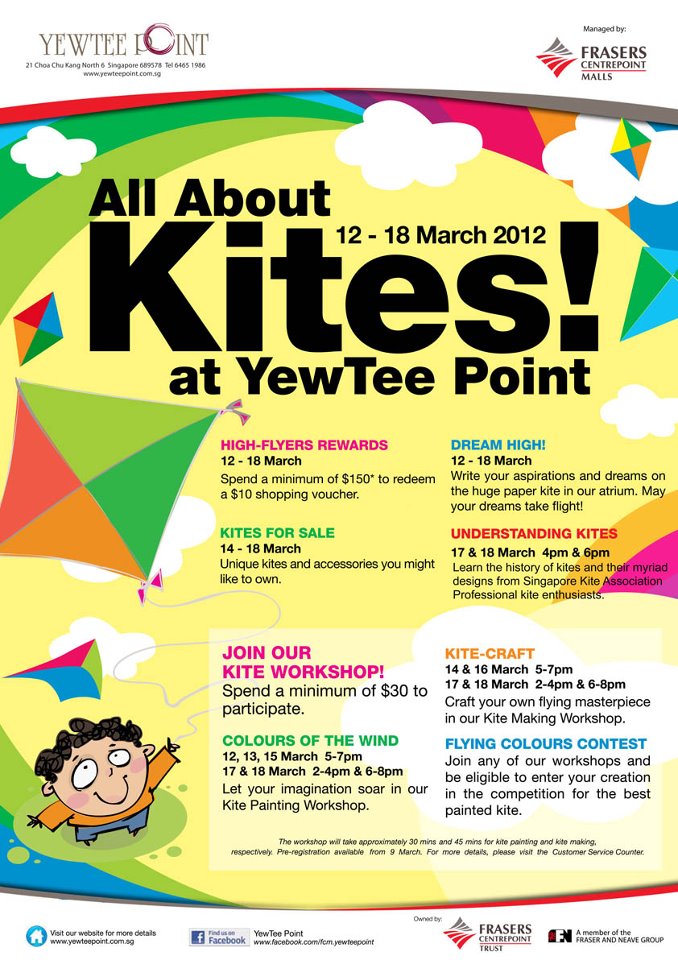 Watertown@Punggol Kite Flying Competition
Vacant field by Punggol MRT
Jan 7-8, 2012 18:00 - 21:00
Jan 14-15, 2012 18:00 - 21:00
Jan 21, 2012 18:00 - 21:00
Bring your Day & Night kites down to the site.
Prizes will be given away for the most spectacular kite.
Please pre-register your kites here.
17th Pasir Gudang World Kite Festival 2012
Bukit Layang Layang, Pasir Gudang, Malaysia
Feb 14-19, 2012

Check out their website
Fun Flying @ Marina Barrage
Nov 12, 2011 12:00 to 21:00
Nov 13, 2011 12:00 to 18:00
Plse visit this link for more details.
One Sky One World - International Kite Fly For Peace
Tampines East Community Club (TECC)
10 Tampines East Street 23, Singapore 529341
Oct 9, 2011 2PM-6PM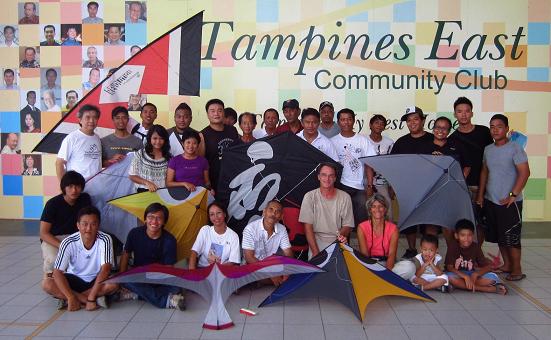 Indoor Kite Flying @ Tampines East Community Club (TECC)
10 Tampines East Street 23, Singapore 529341
Sep 18, 2011 2PM-6PM

Come join SKA to fly indoor kites at TECC.
Be amaze how kites can be flown indoor.
All are welcome.
Flight of Dreams Community Service Project
June 11, 2011
Singapore Management University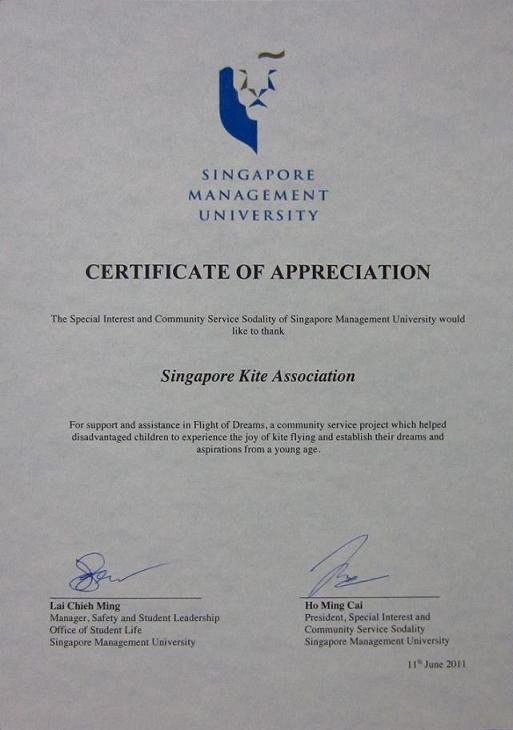 May 12, 2011
Added section on Kite Safety
Earth Hour Singapore 2011
The Promontory @ Marina Bay
MRT: Raffles Place exit J (click here to see the location map)
March 26, 2011
5.30pm – 10.00 pm

This year, WWF, in partnership with the Singapore Kite Association,
will be inviting you to make your own green kite and personalise it with your
message or wish for the Planet.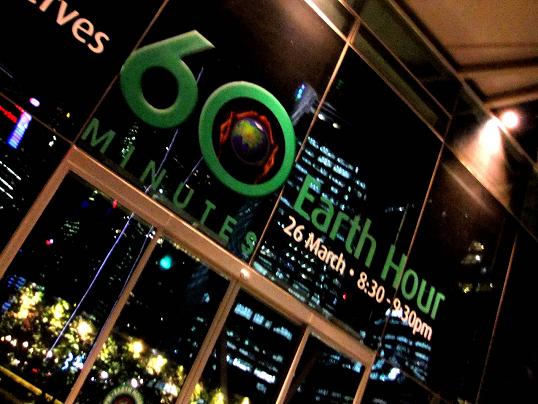 Fun Bliss @ South West
March 13, 2011
Jurong Central Park
8:00am - 12:00pm
Finance Minister Tharman Shanmugaratnam and South West District Mayor Dr Amy Khor
attempting to make a kite each at "Fun Bliss@ South West"
SKA secretary was there to share kite making techniques.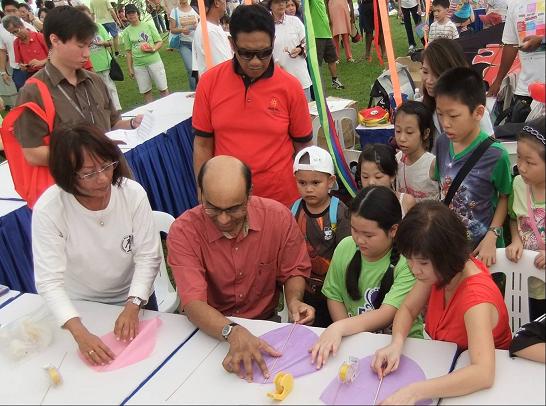 Singapore International Kite Day 2011
February 27, 2011
Green Roof, Marina Barrage
12:00pm – 6:00 pm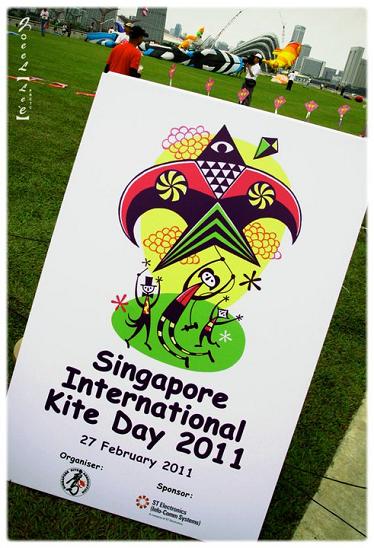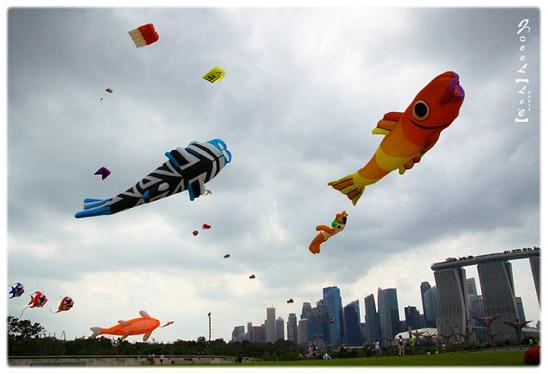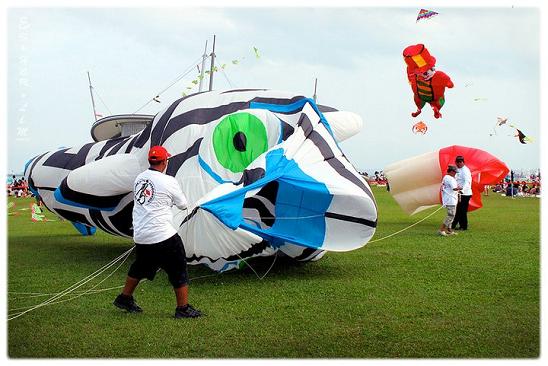 Kite flying display from international kite flyers from:
Germany, Indonesia, Malaysia, Philippines, South Africa, USA and Singapore!

Come catch these gigantic kites in action and our very own Revolution Team.
So see you on Sunday!
Make a Japanese Kite
Saturday, 22 January 22, 2011
Activity Room, Bukit Batok Public Library
2:30pm – 3:30 pm
Japanese kites can have traditional symbols or intricate art that tells a story. They are also of cultural significance. In Japan, during their Children's Day on May 5, every family flies a fish kite from a bamboo pole in front of the house for each boy in the family.
There are basic kinds of Japanese kite which you can make and fly. Sign up to learn more! Materials will be provided.
For children aged 8 to 12.
Make a Korean Kite
January 9 2011
Activity Room, Bishan Public Library
2:30pm – 3:30 pm


Kite flying is called 'yeon-nalligi' in Korea. Some people believe that they can fly kites to get rid of worries and bad fortune for the year. Some even write their names and addresses on their kites so that good luck would know where to find them!
Korean kites are generally rectangular with a circular hole in the centre. Have you seen a Korean kite before? Sign up and make one for yourself! Materials will be provided.
For children aged 8 to 12.
November 6
Nee Soon East Family Kite Flying Day
Nee Soon East Sports Park (Opp Blk 243, Yishun Ave 8)
3:00PM - 6:30PM
Kite Painting Contest (Registration fee $2.00)
Kite Exhibition
Kite Flying Demo
November 6-7
The Little Explorer's Travel
Asian Civilisations Museum, 1 Empress Place
Kids, take an exciting trip through Asia only at the Asian Civilisations Musuem!
Journey to the colourful worlds of China, India and the Middle East through exhilarating performances,
wonderful workshops and fun kids' craft. SKA will be in attendance to help
little explorer's with kite making.

October 30-31, 2010
Layang Layang Fun Flying, Marina Barrage
Oct 30 : 10AM - 5PM, 8PM - 9PM
Oct 31 : 10AM - 6PM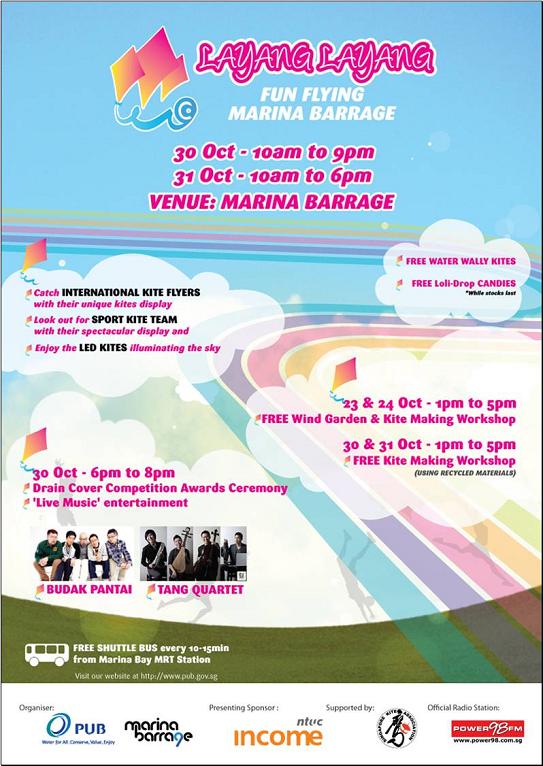 October 24, 2010
SKA AGM
Marina Barage
Green Roof
3:00pm - 5:00pm
AGM

(TO BE RESCHEDULED)
October 10, 2010
SengKang Field
2:30pm-6:00pm
OSOW Worldwide Kite Flying for peace, culture, exchange, tolerance and understanding.
Join us at SengKang Field.
October 1, 2010
President's Challenge 2010
West Coast Park, Grand Lawn
11:00am - 4:00pm
Happy Children's Day! Microsoft Singapore and SKA are going flying a kite for charity with the President.
Here are the Sponsor & Beneficiary Kites: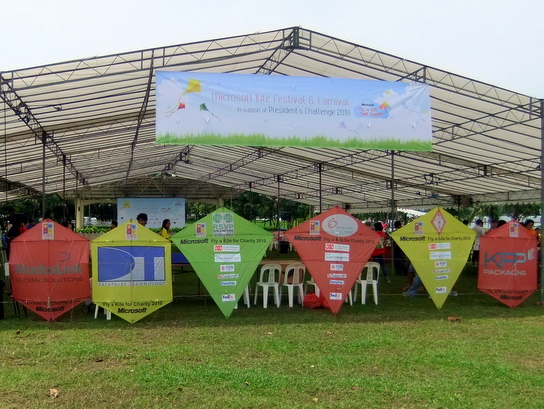 September 19, 2010
POSB Run for Kids 2010 Kite Fly
SengKang Field across Anchorvale CC
7:30am - 11:00am
POSB is selling kites for charity. SKA will be there to help participants fly their kite.
August 28-29, 2010
The Great Sumatran Adventure @ ACM
1 Empress Place
Singapore 179555
Come and join us at the Kite Making Session from 12:00pm - 5:00pm
See you there!

August 1, 2010
Walk for Our Children 2010
West Coast Park, Car Park 3
10:00am - 6:00pm
Walk for Our Children is an annual significant fundraising event
for Singapore Children's Society. Aside from the usual walkathon
and carnival activities, this year the event will see international
kite makers to demonstrate kite making techniques and be
entertained by their flying displays.
International Kite Masters attending:
China
France
Korea
Indonesia
New Zealand
Thailand
For the children, watch out for lollipops drop from gigantic kites.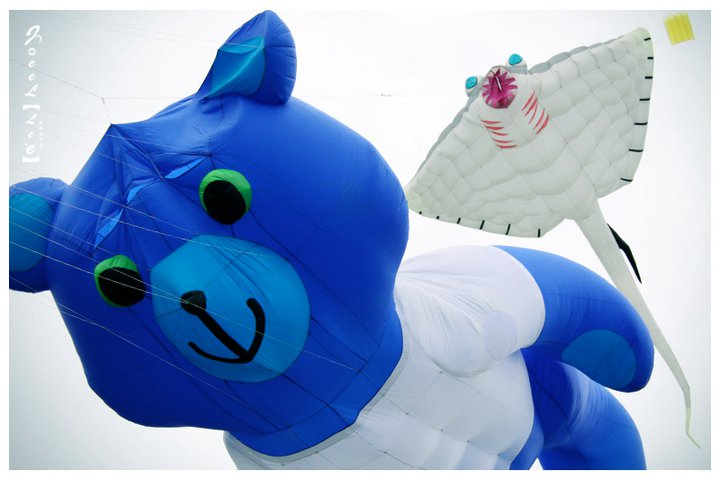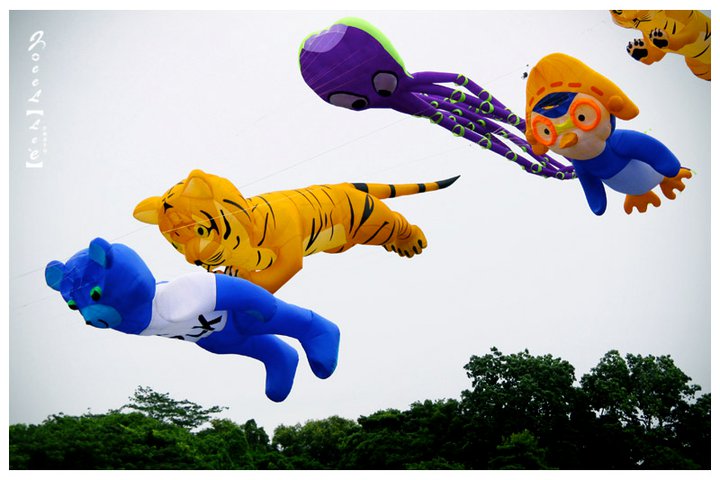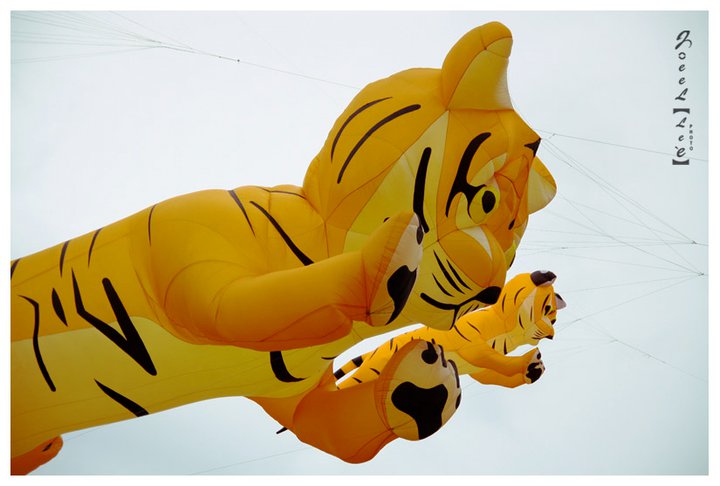 July 31, 2010
Night Flying at WCP, Car Park 3
8:00pm to 11:00 pm
Head down to WCP and be awe with kites fitted with hundreds
of super-bright LEDs. Come and be dazzle by these night kites,
illuminating the night skies. A rare opportunity for all to experience
the largest collection of night kites fitted with LEDs.
These are real kites (tethered flying objects) fitted with LEDs, and
NOT remote-controlled-crafts.



July 10, 2010
Central Singapore District Arts Festival 2010!
1:00pm-9:00pm
SKA will be conducting kite workshops at the event.
Workshops are complimentary, each session is limited to
30 participants. Kite workshops are scheduled to start
at 1:00pm, 2:00pm, 3:00pm, 4:00pm, 5:00pm, 6:00pm
Those interested are to register at:
http://www.centralsingaporecdc.org.sg

July 4, 2010
Punggol Central Racial Harmony Kite Flying Carnival 2010
Anchorvale Fields along Anchorvale Street
Time 10.00am - 6.00pm
Kite activities:
1. Kite-flying Competition
2. Kite-flying Clinic (Sports kites)
3. Kite-flying demonstrations
4. Kite Painting Competition (Theme: Racial Harmony)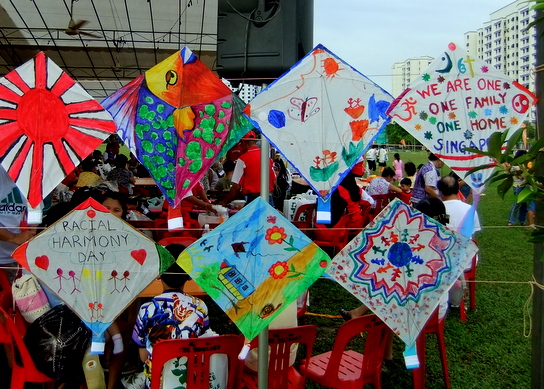 June 27, 2010 (Sunday)
Radio1003 Family Day-out @ SIWF
10:00am - 03:00pm
Inconjunction with SIWF, Radio 1003 together with SKA conducted 3
sessions of kite making workshop @ Gallery Suite, Marina Barrage.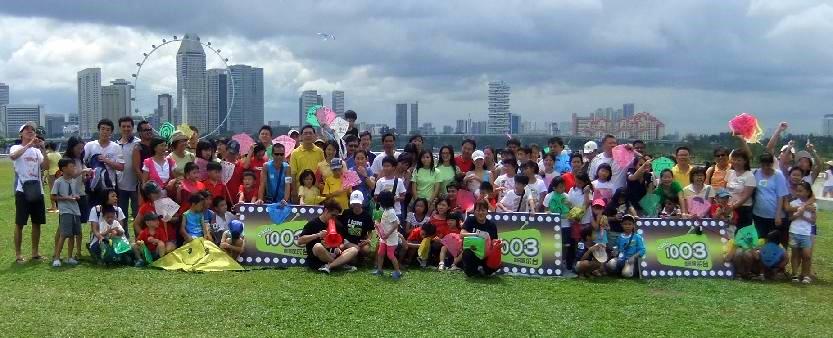 June 26-27, 2010
Singapore International Water Festival
Marina Barrage, Singapore

The festival is incomplete without kite flying. SKA will be flying at the
barrage as part of the festival program.
Catch SKA in action at the Barrage.


June 26-27, 2010
15th Pasir Gudang International Kite Festival
Bukit Layang-layang, Johor, Malaysia
No this is not a duplicate entry. Normally held in the month of February,
this year the festival has been rescheduled for June. This is one of the
largest international kite festival outside Singapore.
How to get there? GPS - N1 28.440 E103 54.413

June 20, 2010
Tampines Central Family Day 2010
3:00pm - 6:30pm
Open field beside Tampines Premiere@Tampines Central 7
Kite Painting Competition & Father & Child Look-A-Like Contest

June 13, 2010
SE Kite Flying @ Tanjong Rhu
3:00pm - 7:00pm
Open field opposite Costa Rhu Condo.
Annual kite flying event residents of Costa Rhu.
A series of kite workshops is being organised at the following CC:
Sat, 5 June 2010 - Katong CC, 2pm to 4 pm
Sun, 6 June 2010 - Joo Chiat CC, 10am to 12 pm
Sun, 6 June 2010 - Braddel Heights CC, 2pm to 4pm.

Following the workshop, the completed kite will be flown on June 13.
A kite painting colour competition will also be held at the
event grounds on June 13.
May 16, 2010
Let's Go Flying
Marina Barrage, Singapore
Gather your family for a fun trip to the Marina Barrage.
Attend a kite workshop and decorate a kite with your own design
and show them off at the green Roof.
Registration from 1:30 PM - 5:00 PM
April 29 - May 2, 2010
Fiesta Hari Pekerja Pasir Gudang 2010
Bukit Layang-layang, Pasir Gudang Malaysia
A mini kite festival, with flyers from Singapore, Batam, Perlis and KL.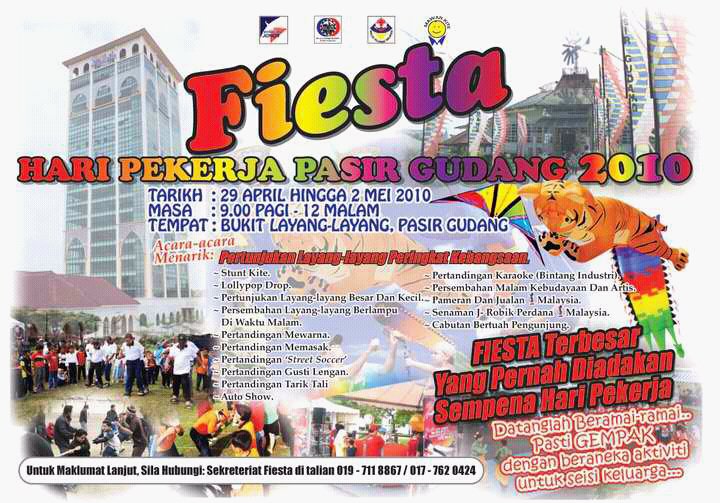 March 14, 2010
Kite workshop with Marsiling Chinese Orchestra (MCO)
Fuchun Community Centre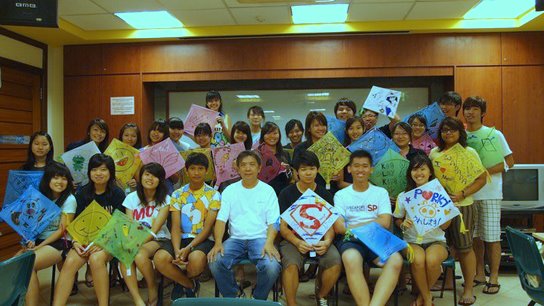 March 7, 2010
Family Beach Carnival
Pasir Ris Park, Carpark E & Water Venture (Pasir Ris)
Organisers have added kite flying as part of the activities. There will
be sport kites demonstration and kite flying. See you there.
February 27, 2010
Singapore 2010 CAN! aims to bring youth together for the Singapore 2010
Youth Olympic Games (YOG). It encourages youths to Create. Action. Now!
to celebrate and be part of the world's first Youth Olympic Games in different ways!
As part of the celebration in SKA conducted kite making workshops at
Marina Barrage for various schools in Singapore. About 170 youths from local and
international schools came together to create 169 kites - which is the number of
days to the Games. Each kite carries the wishes of youths for the Youth Olympics.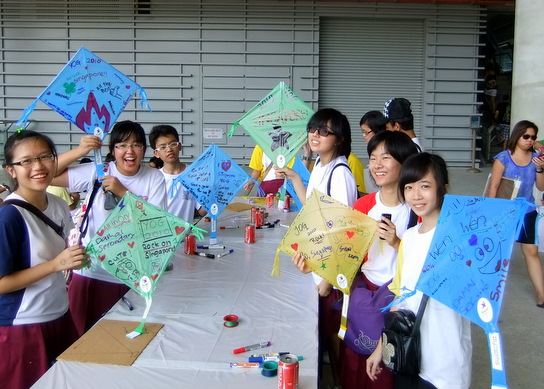 Feb 4-8, 2010
Bandar Dato' Onn International Kite Festival 2010

Pasir Gudang has been organising International Kite Festival for the past 14 times
but will be unable to do so for 2010.
The main organizer, Johor Corporation together with Johor Kite Association will be
organising an international event at a new venue at Bandar Dato' Onn as its 1st Kite Festival.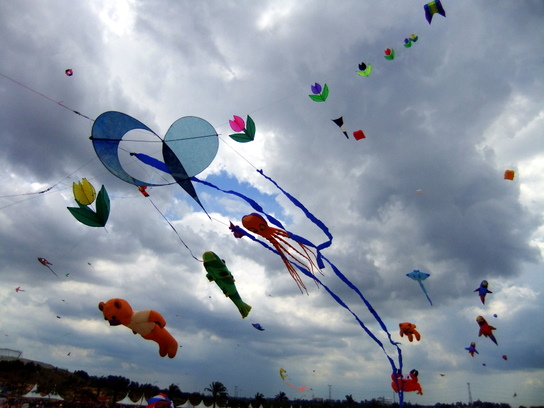 Pictures by Chin are available here for viewing:
30 Jan 10 and
31 Jan 10

More pictures by Augustine can be found here and
even more pictures from Joeel Lee.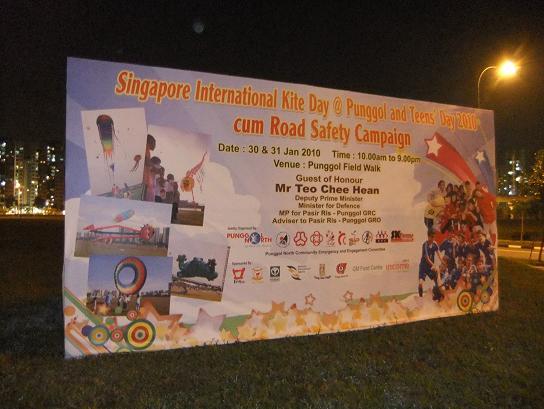 January 30-31, 2010
3rd Singapore International Kite Day @ Punggol and Teens' Day 2010
Punggol Field Walk (vacant field adjacent to Blk 128C)
10:00am to 9:00pm

Jointly organised by Singapore Kite Association, Punggol North CSC,
Punggol North RCs, Sengakang Neighbourhood Police Centre and Social Innovation Park.
The organisers have combined 2 events into one, not only will there be kite flying,
but the teens will be able to experience sports kite flying (dual-line kites) and
for the first time night flying with kites.
There will be International kite masters from Austria, Australia, Cambodia, China,
France, Germany, Hungary, Indonesia, Kuwait, Malaysia, Philippines, Singapore, Taiwan,
Thailand and Vietnam.
Kite demonstrations feature giant inflatable kites, long train kites, and two and four line stunt kites.
Other attractions include a sidewalk flea market.
Public can purchase tickets ($3.00 each) in exchange for kite sets, goodie bag and lucky draw.
Watch this space for more update.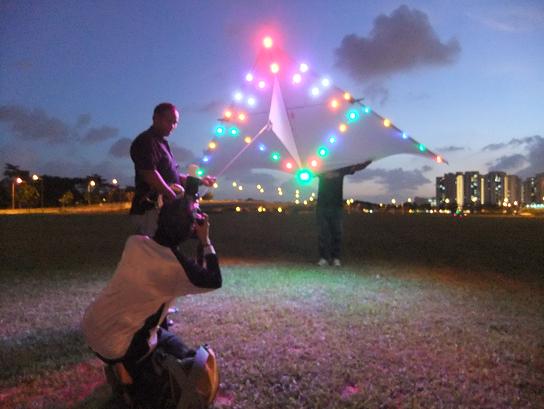 Experience dazzling lights on large kites from 7:30 PM (after sunset) on Jan 30&31.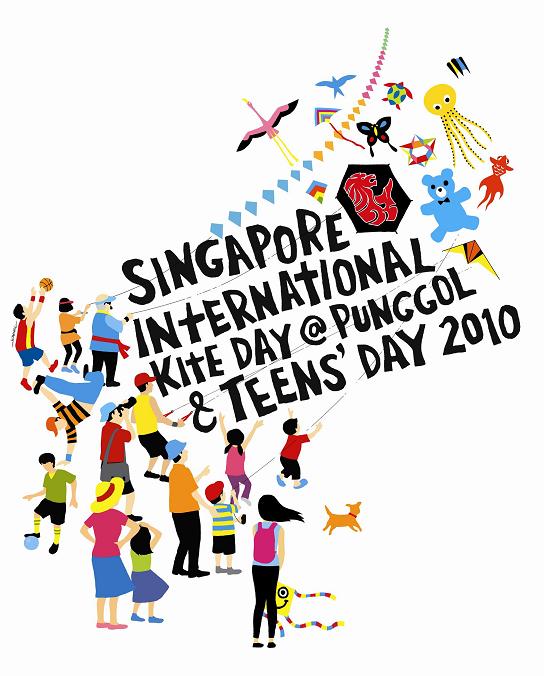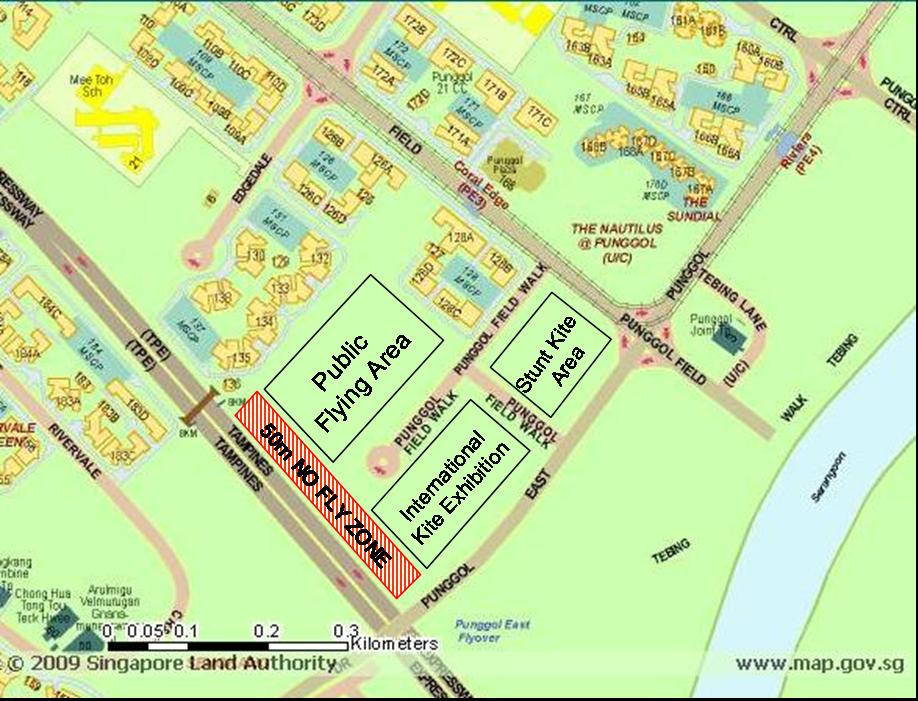 October 18-19, 2009
China Yinchuan International Sport Kite Tournament
The Chinese Kite Association is hosting the 2009 China Yinchuan International
Sport Kite Tournament in Yinchuan City, Ningxia Hui Autonomous Region.
Yinchuan, Capital City of Ningxia Hui Autonomous Region of China, situated in the
upper reaches of the Yellow River, is a famous ancient cultural city. In order to
promote the international exchanges on kite techniques, strengthen friendship
between sport kite fans from different countries and regions, SKA members are
invited to participate in the 2009 China Yinchuan International Sport Kite Tournament.
Prize money will awarded to winners of the competitions. The organizers will provide
free board and lodging as well as local transportation (including pick-up at the airport)
during your stay in Yinchuan. Free local sight-seeing will also be arranged.

Invitation Only. No SKA attendance.
October 11, 2009
12PM-6PM SengKang Open field next to Anchorvale CC
One Sky One World
Worldwide kite flying for peace + culture + exchange + tolerance + understanding.
Join kite flyers all over the world to fly kites on this day.
All kite flying activities are posted on http://subvision.net/sky/osow/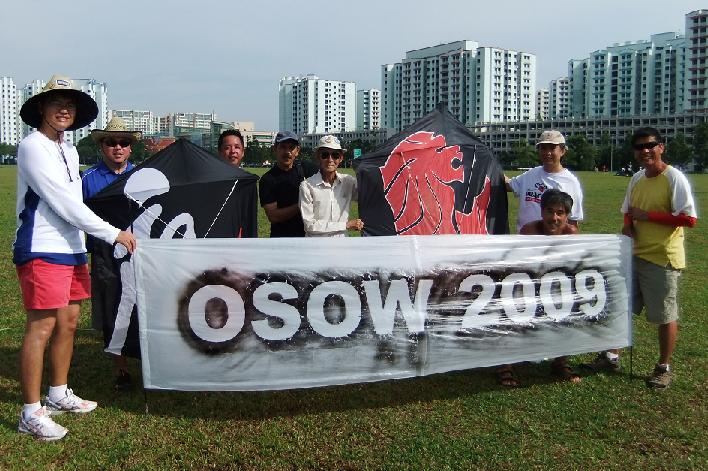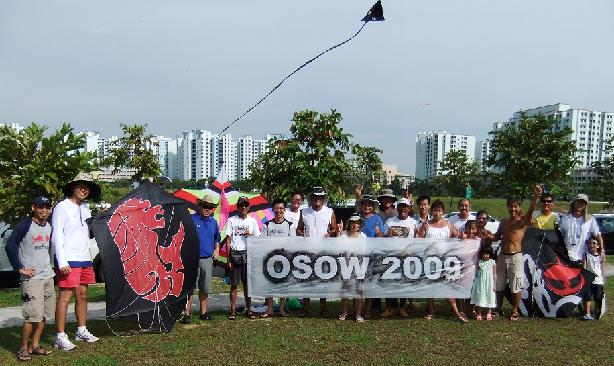 August 29-30, 2009
3:00PM - 7:00PM Grand Lawn, West Coast Park CP3
NTUC Income Kite Festival 2009
SKA kites at West Coast Park on 29 Aug 09. NTUC rokkaku can be seen
in the right.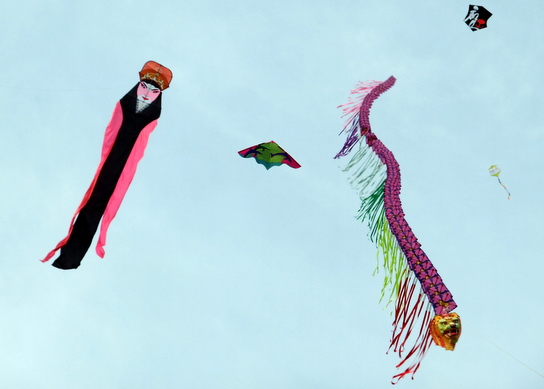 SKA mini wind garden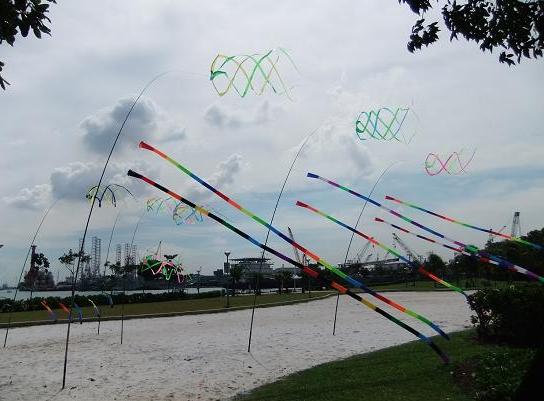 August 8-14, 2009
Indonesia Kite Tour Festival 2009
The Le Gong kite Society, together with Jakarta City Government Tourism Office,
are once again organising the Indonesia Kite Tour festival 2009, undertaking the
theme of "Saving Our Earth and Friendship" which will be held at Jakarta and
Muna (Southeast Sulawesi).
We have received invitation for 2 SKA kite flyers. Boarding and lodging as
well as transport will be provided. Interested members are to contact Wing
immediately.
August 12, 2008
NSAD Kite Workshop at Marina Barrage
2:30PM - 4:30 PM
SKA conducted a kite workshop for 40 participants. Thereafter flying at the Green Roof.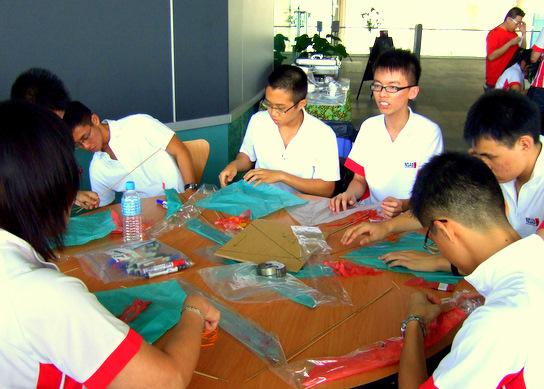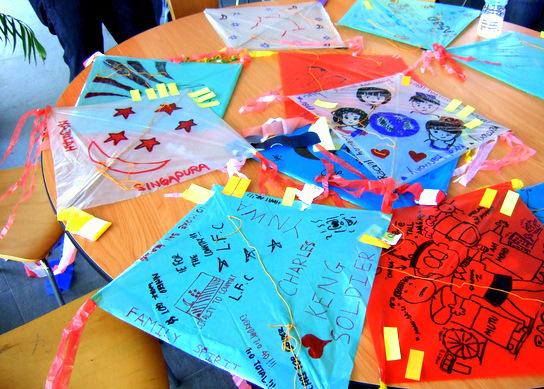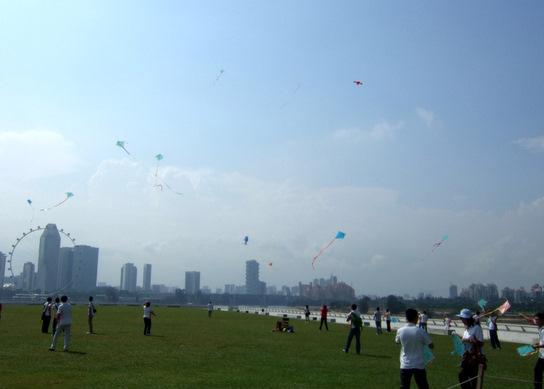 August 9, 2009
9:00AM - 12:00PM
Ang Mo Kio GRC and Yio Chua Kang SMC National Observance Ceremony
In conjunction with the event, SKA and members of the public will be flying
kites at the open field opposite Anchorvale CC.
Do join us flying kites on National Day.

July 12, 2009
3:00PM - 6:00PM
Tanjong Rhu Neighbourhood Committee Kite Flying

Come down to the Open Field opposite Costa Rhu Condo with the entire family
for family bonding with kite painting. Tickets are sold at $3.00 each with
colouring kite kit, ice cream and pop corn.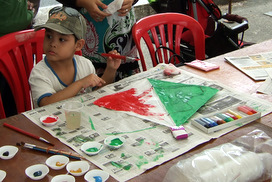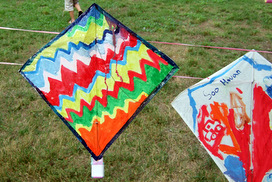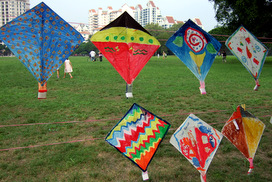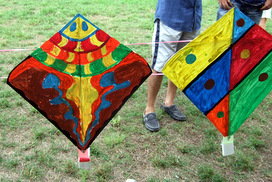 June 20-21, 2009
12PM - 5 PM
Singapore International Water Week

As park of the organised fringe activities , there will be kite flying at the "Green Roof" or upper deck of the
Barrage. A designated area has been allocated for kite flying.
Kite flyers are to observe the "stop kite flying" at 5 PM for the National Day flypast rehearsal.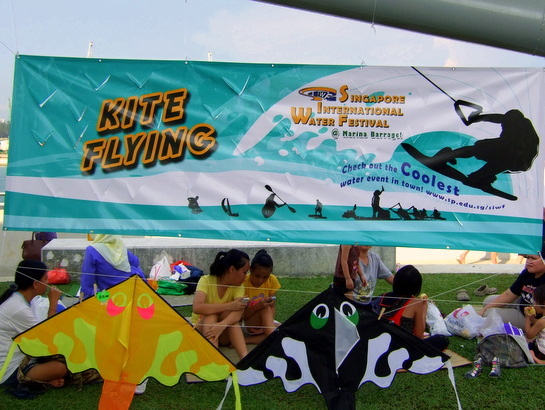 April 9-23, 2009
Absolute Van Gogh by Von Tjong
Gallery @ The Arts House
1 Old Parliment Lane
Free Admission 10am - 10pm
Singapore artist Von Tjong merges the aesthetics of Chinese brushwork and Van Gogh's colourful style.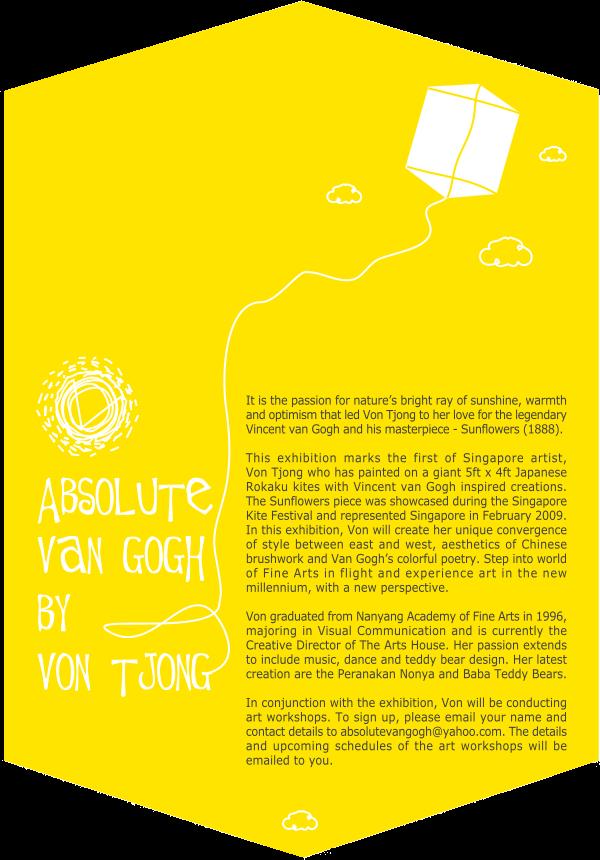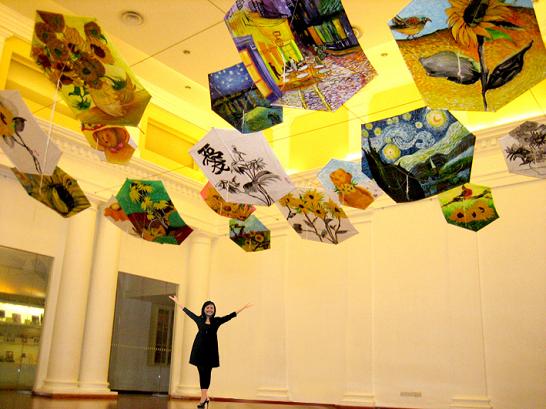 March 15, 2009
MIC Kite Flying Day / Punggol North Family Kite Day
3:00PM - 6:00PM

A combined kite flying event between FCI Microconnections Asia Pte Ltd
and Punggol North Constituency Sports will be on March 15, 2009 at the open field
next to Oasis LRT. Public can purchase tickets ($2.00 each) in exchange for kite sets
and fruity pack.


March 8, 2009
Let's Go Fly a Kite - A Tribute to Shakib Gunn

SKA and VSS (Vegetarian Society Singapore) are having a kite flying
day at Pasir Ris Park.
Venue: Pasir Ris Park (west end), field adjacent to PA Holiday Chalets
Parking: Car Park F (Free Parking)
Date: 8 March 2009 (Sunday)
Time: 10.00am till the sun sets

Feb 16-22, 2008
14th Pasir Gudang International Festival


Visit their website for daily programme.
Highly recommended for all kite enthusiasts to attend.
You will find international kite flyers from 26 countries.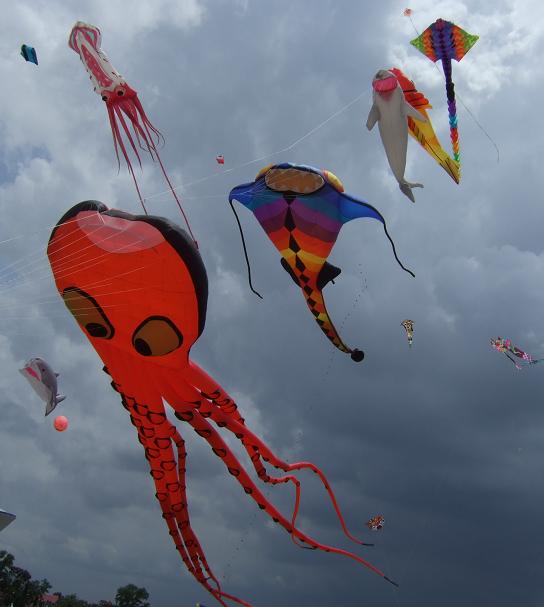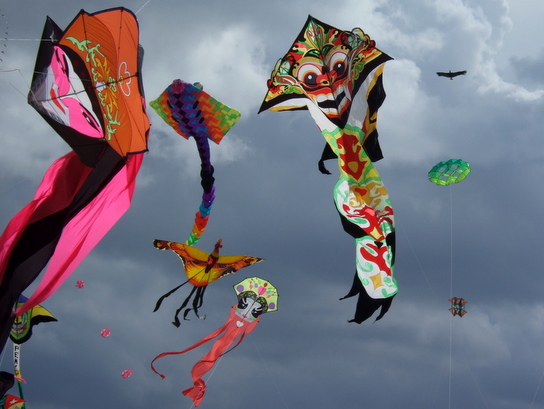 Pasir Gudang by Day - Coloring the PG skies.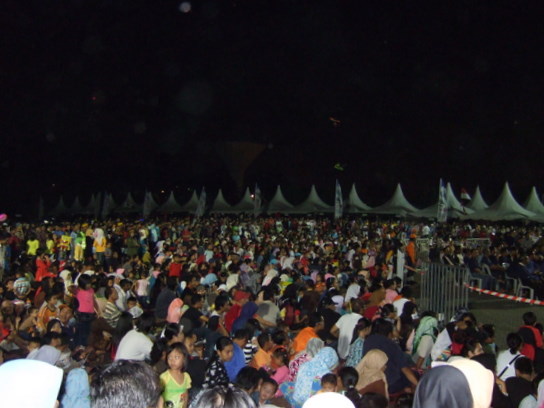 Pasir Gudang by Night - It's all night entertainment for the entire town.

February 17, 2009
It is with great sadness that we record the passing of our founding member,
Shakib Gunn. Indeed an icon that is remembered by many from all over the world.
Shakib, you shall be missed by all your friends and loved ones.

February 16, 2009
Pictures from Singapore Kite Day @ Punggol 2009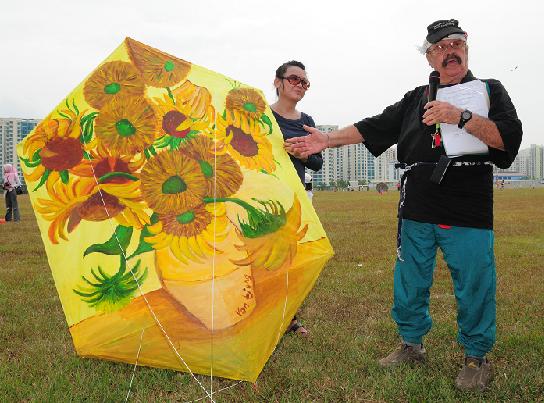 Shakib Gunn (right) with Von Tjong on her hand painted Van Gogh's
12 sunflower on a tyvek rokkaku.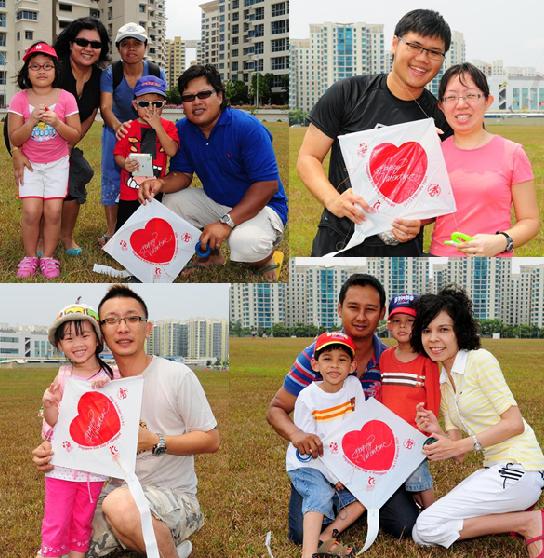 Families celebrated Valentine's Day with our specially designed kite.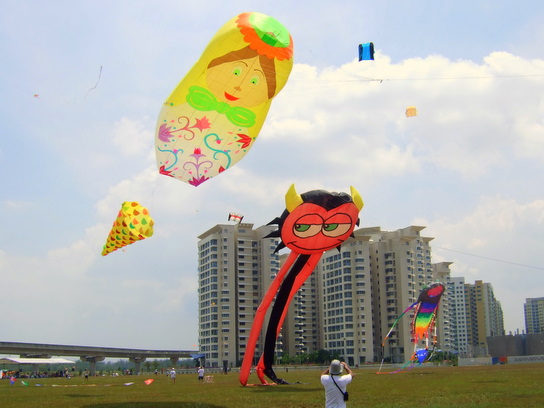 Left to Right: Matriosca or Russian Doll (flown by Guilherme Linares, Brazil),
Devil Kite (flown by Carlos Soares, Portugal) and Trilobite (flown by Bertrand
Rosier, France).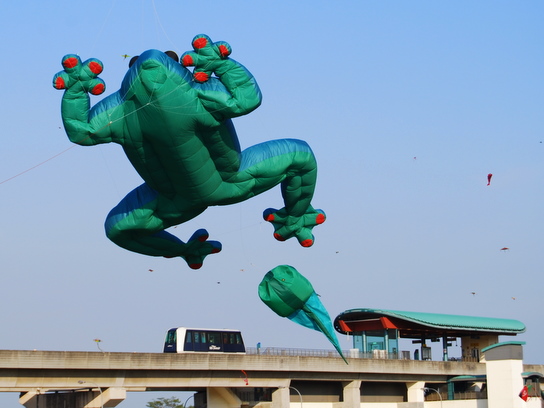 Inflatable Frog (flown by Rodolfo Caponi, Italy).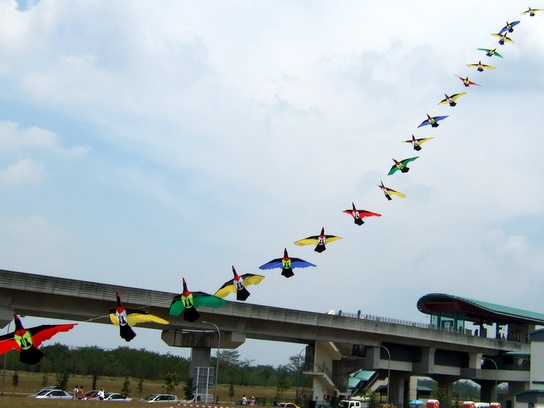 Bird Train Kite from Indonesia (flown by Agus Setiawan), Indonesia.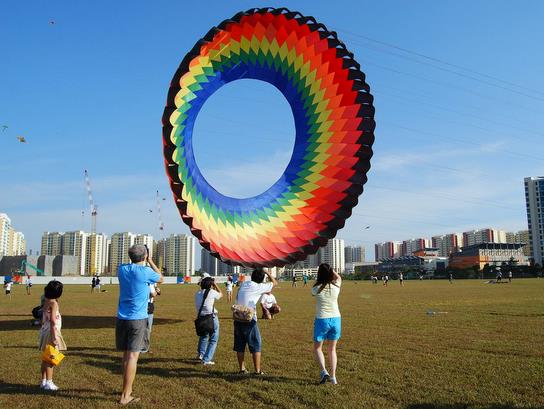 Spinning Bowl flown by Bertrand Rosier.
More pictures from Rumplestiltskin <click here>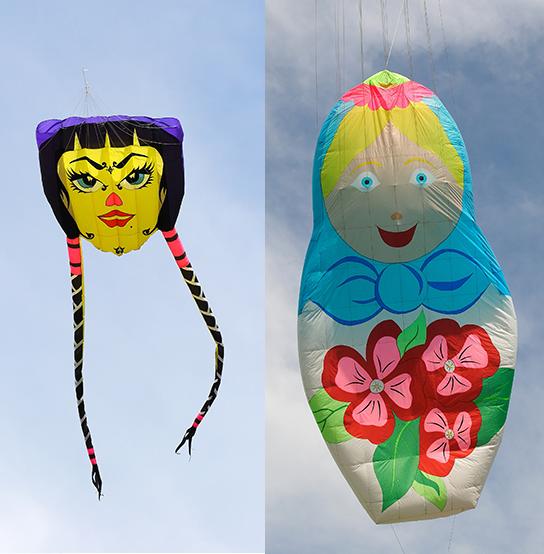 February 14-15, 2009
FLY A VALENTINE'S DAY KITE WITH FLYERS FROM ALL OVER THE WORLD
Punggol residents are in for a spectacular show on 14 and 15 February 2009.
Valentine's Day is being celebrated with a new twist.
For only $3.00 young couples, singles and families will receive a Happy Valentine**
kite kit, a fruity pack and a lucky draw ticket.
**The Happy Valentine kite kit is available on a first-come-first served basis.
Note only that, they will be able to fly along side kite flyers from Brazil, China,
France, Indonesia, Italy, Malaysia, Portugal, Singapore, Sweden and United Kingdom.
Kite demonstrations feature giant kites, long train kites, and two and four line stunt kites.
Other attractions include a Paint-Your-Own Diamond Kite Workshop and a sidewalk
flea market.
The event is organised by Punggol North CSC together with Coral, Cove, Meadows,
Meridian, Oasis, Oceanus RCs and Singapore Kite Association.
Guest of honour will be Ms.Penny Low, MP for Pasir Ris-Punggol GRC
and adviser to Pasir Ris-Punggol GROs.
Tickets are available from Punggol 21 CC and all Punggol RCs.
February 1, 2009
Redeem this specially designed Valentine Kite on 14 & 15 Feb 2009
with Singapore Kite Day @ Punggol 2009 tickets. As there are limited stock,
the Valentine Kite is available on a first-come, first-served basis.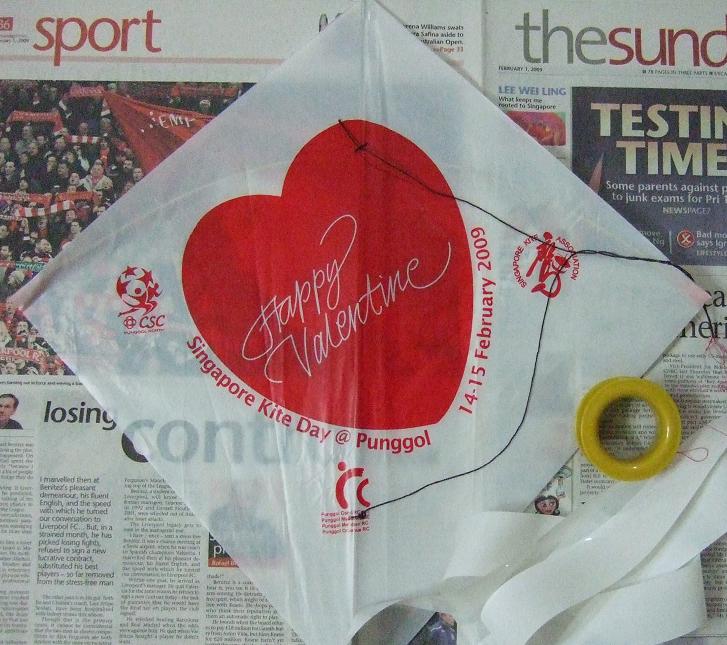 February 14-15, 2009
Singapore Kite Day @ Punggol 2009
by OASIS LRT station from 1200-1800 daily
Jointly organised by :
SKA & Punggol North CSC

This is how you find your way to the flying event: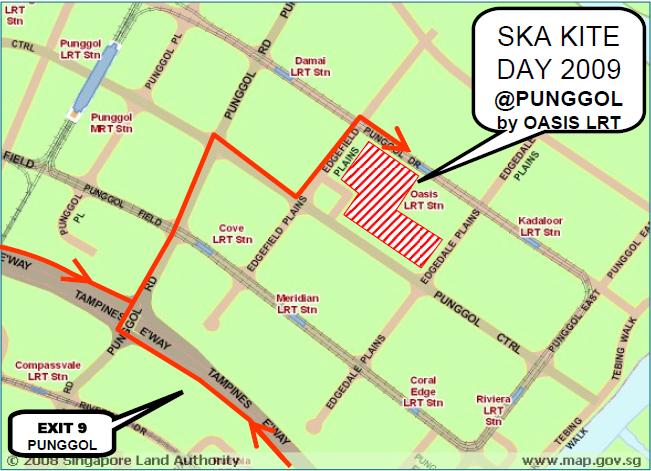 Come and view gigantic kite display from the various International teams:
Brazil
China
France
Indonesia
Italy
Malaysia
Portugal
Sweden
United Kingdom

Special limited edition of Valentine Kite Kit** can be redeemed with every ticket purchased.
**Valentine Kite Kit is on a first-come first-served basis.
Tickets are available from all Punggol RC Centres.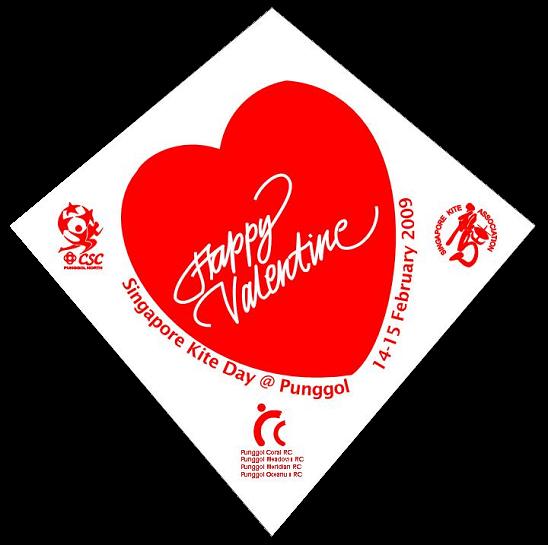 January 16, 2009
SKA member Peter Teo was at the controls of the stack of stunt kites.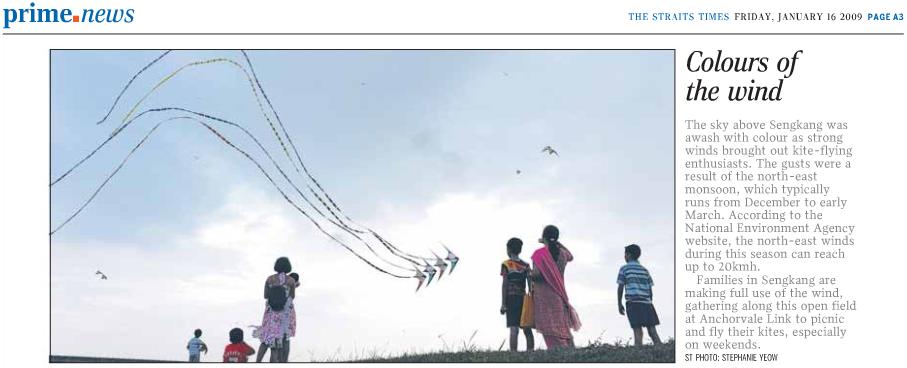 July 21, 2008
"Fly me on a jet ski"
SKA TAKES PART IN SINGAPORE NATIONAL DAY PARADE 2008
Singapore Kite Association (SKA) is proud to take part in this year's National Day waterborne activities at Marina Bay.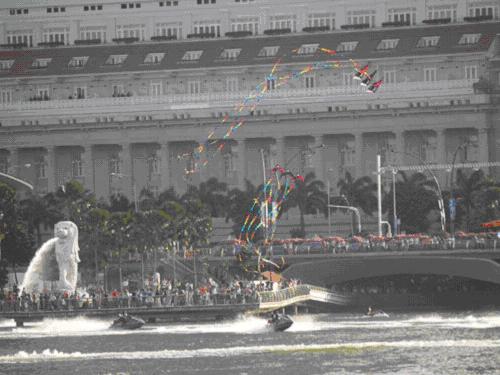 SEE THEM ON U-TUBE
Four members ride strapped onto the back of jet skis
while they fly a stack of three stunt kites each. The team moves in a diamond formation while they travel at speed from the Collier Quay end of Marina Bay past the huge floating display platform at the other end. You can view them at practice on U-TUBE http://www.youtube.com/watch?v=gqSs7xpeG0Q
DIAMOND FORMATION
Flyers in the diamond formation are Chris Ng (lead), Chua Lin and Zulkifli (on the flanks) and Peter Teo (tail). They each fly three SilverFox 2.5m on Shanti Speed 300lb Spectra lines. Each kite carries a 96ft rainbow transition tail from Gomberg.
SILVERFOX
The SilverFox from Flying Wings Kites was selected because it is vented and combines strength and size with relatively less pull than similar-size kites Manageable pull is important for the flyers. The jet skis travel at an estimated 20mph and in early trials, a 500lb line snapped. After practice, the team felt comfortable with 300lb line.
HOW IT'S DONE
How do you launch four stacks virtually simultaneously from the water?
The SKA team came up with the idea of a floating pontoon 2m high. The four stacks are lined up side by side on a raised platform on the pontoon The jet skis line up in front of them with Chris, Chua, Zulkifli and Peter facing backwards. The jet skis power up and take off at speed at 5-second intervals.
The lead jet ski with the kite airborne circles around until the remaining three kites have lifted off. They get into formation and rush to the other end of the bay. To get this far has taken six months of practice. From start to finish, the kites are airborne for about 15 minutes but the actual fly-past the platform is timed to take precisely 58 seconds.
DEEP BREATHS BOYS
Can the SKA guys fall off? The Navy jets skis were specially-modified to take restraining harnesses but some early-model harnesses snapped. OK, so we had some dunkings. In the event of a jet ski overturning, the flyers have to release the harnesses while they are suspended upside down under the craft. Deep breaths boys!
OTHER CHALLENGES
Wind and water, the two elements that make the display possible, can also work against the performers. When the jet skis turn from running with the wind into the wind, wind velocity changes but the fliers have to compensate for this.
Not all the jet skis travel at the same precise speed due to choppiness of the water caused by their wake and that of high speed power boats pulling wake-boarders. Peter Teo who rides tail in the formation find this a particular challenge.
TANGLED LINES AND WATER LANDINGS
In practice lines have become tangled and some have found their way into jet intakes. Water landings occurred in early trials and there is no possibility of re-launching from the water.
Would they fly on a jet ski again? Yes, they all say. Someone asked if SKA would invest in a jet ski for weekend flying and there has even been talk of buying a small second-hand aircraft carrier for water borne kite festivals, but that's a long way off.
Mar 30, 2008
World Down Syndrome Day 2008
"Aim High Enough"
SKA helped to organise kite painting competition and flying.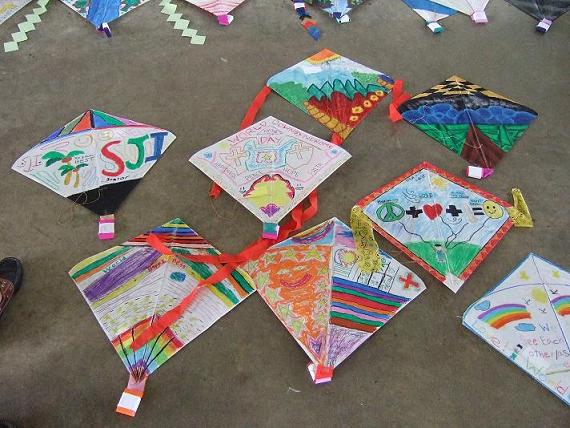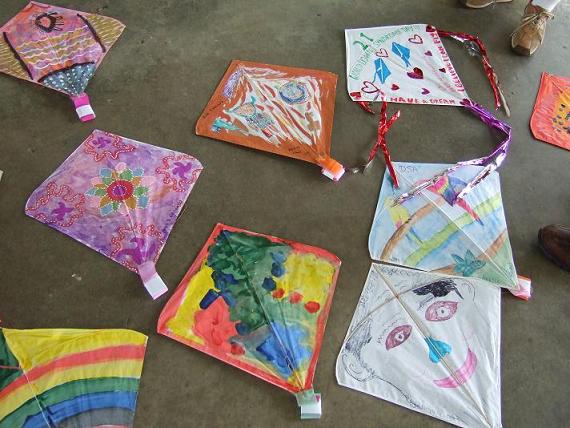 Feb 18-24, 2008
13th Pasir Gudang International Festival
The nearest international kite event that should not be missed. Just less than an
hour drive from Singapore.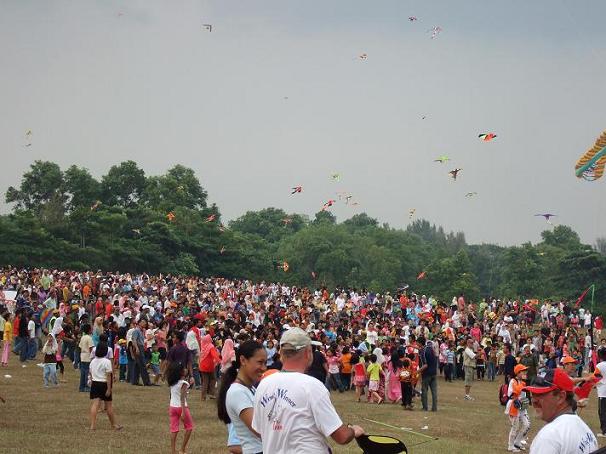 Children at the flying field during a lollypop sweets drop.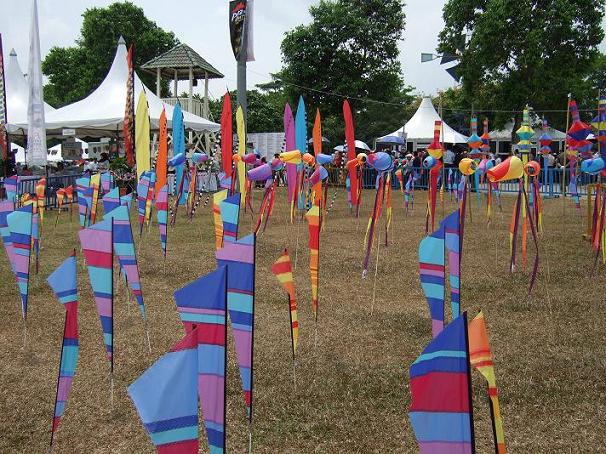 Feb 18, 2007
Singapore Kite Day 08 @ Punggol
The event was officially opened by Ms Penny Low, MP for Pasir Ris - Punggol GRC and
Adviser to Punggol North Grassroots Organisations. This year we have overseas
flyers from France, Indonesia and Malaysia. We also invited special guests from the
Rainbow Centre.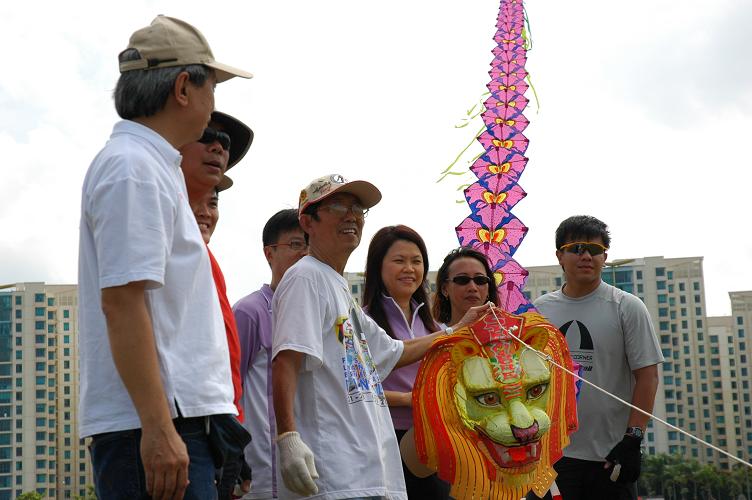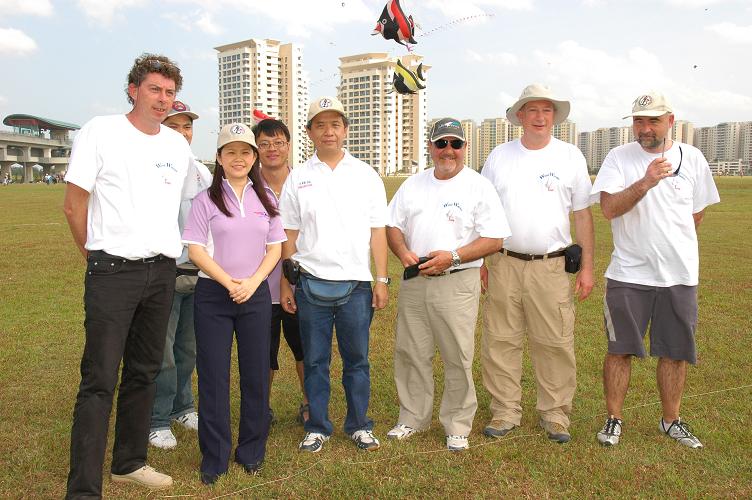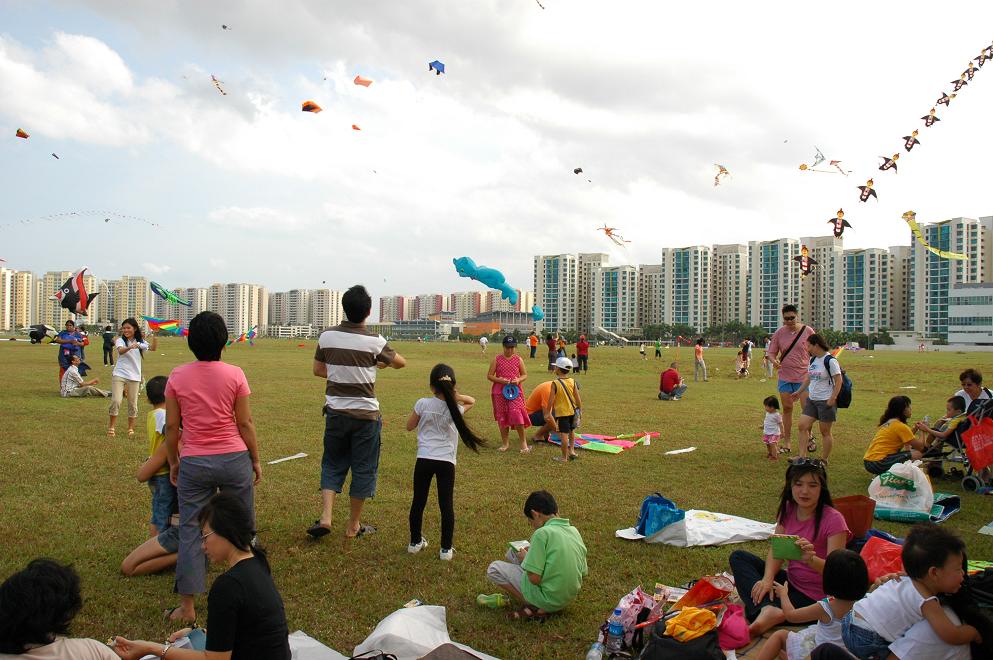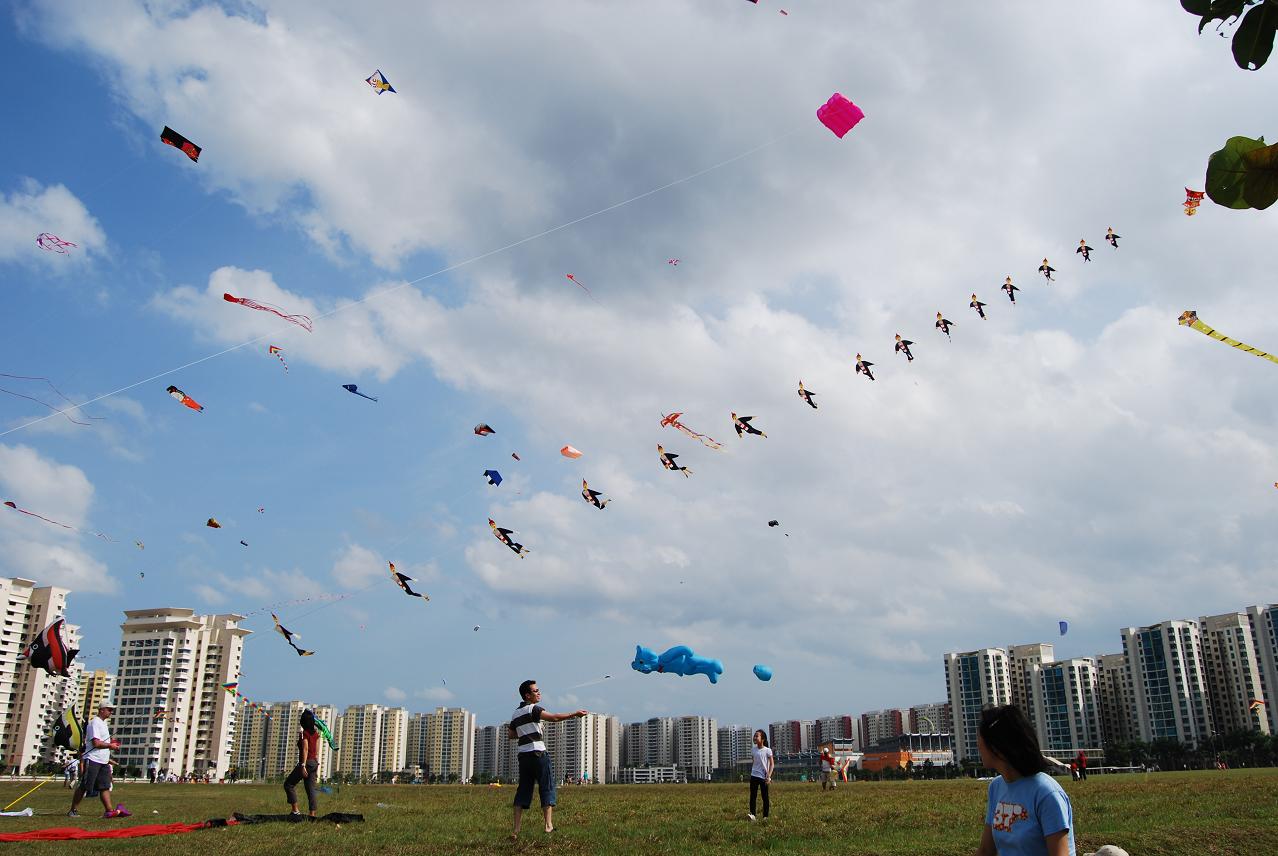 Feb 17, 2008
Singapore Kite Day 08 @ Punggol
By OASIS LRT station 1200 - 1800 hrs
Jointly organised by SKA and Punggol North CSC
with special guests from Rainbow Centre
We welcome International fliers from:
FRANCE
ITALY
INDONESIA
An opportunity not to be missed to view huge kites
display from the International fliers.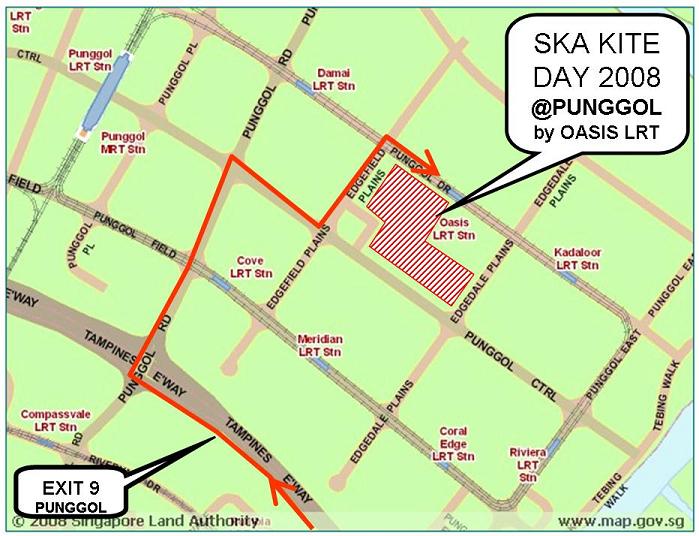 October 14, 2007
One Sky One World 2007
We observerd OSOW at ECP, opposite Parkway Parade. Small gathering this year
due to Hari Raya holidays.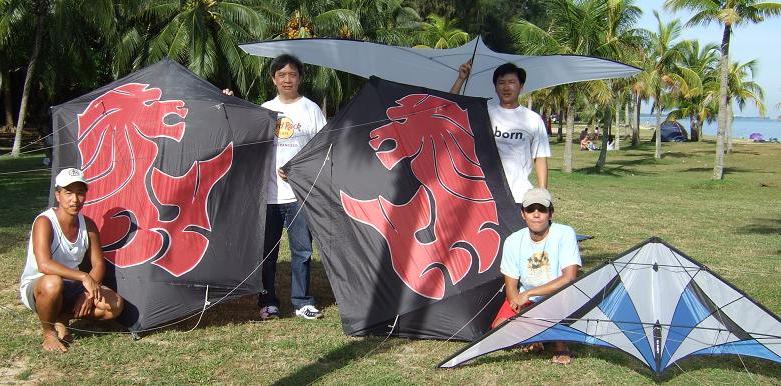 Aug 4, 2007
News clip extract from the The Straits Times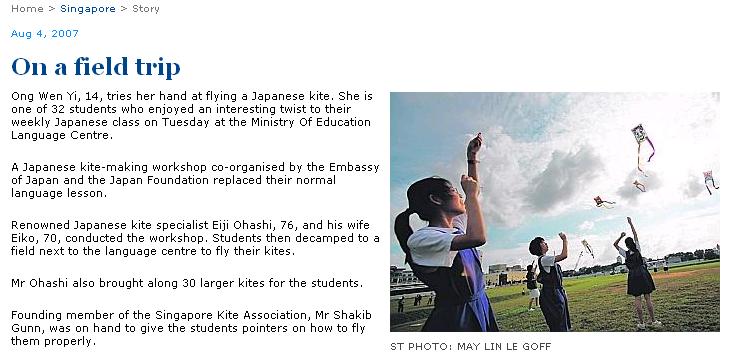 July 31 to Aug 1, 2007
The Embassy of Japan (with assistance from SKA) had invited Mr. Eiji Ohashi,
a Japanese-kite specialist, to Singapore to conduct kite-making workshops.
The objective of this event is to introduce Japanese culture to Singaporean
youths through a fun and educational hands-on workshop on making
Japanese kites. The workshops were held at MOE Language Center and
NUS High School.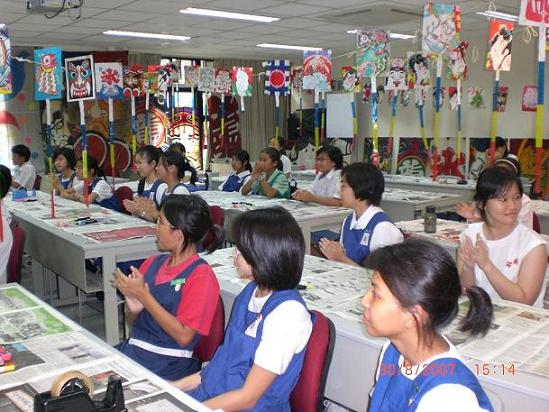 June 2, 2007
In collaboration with The Events Artery, SKA conducted a kite workshop for a corporate family day
titled Zoomanji at the Singapore Zoological Gardens.
May 26, 2007 to Aug 26, 2007
Singapore Science Centre
Kite Display at CHINA 7000 Years of Innovation exhibition

In addition to kite making and paper making demonstrations, three (3)
oriental kites from SKA is on display through the exhibition period:
a) Dragon Train
b) Opera Mask
c) Phoenix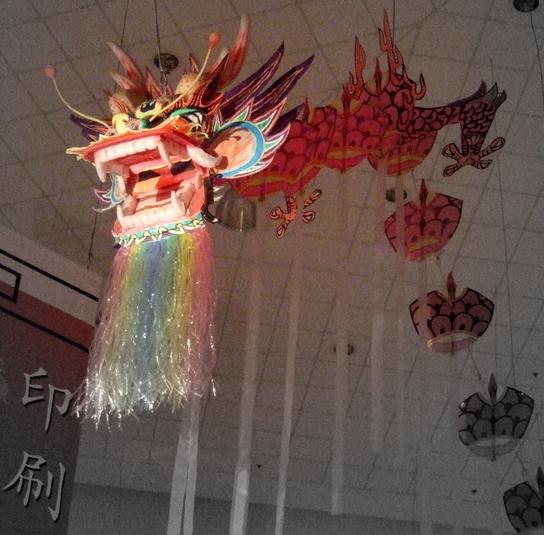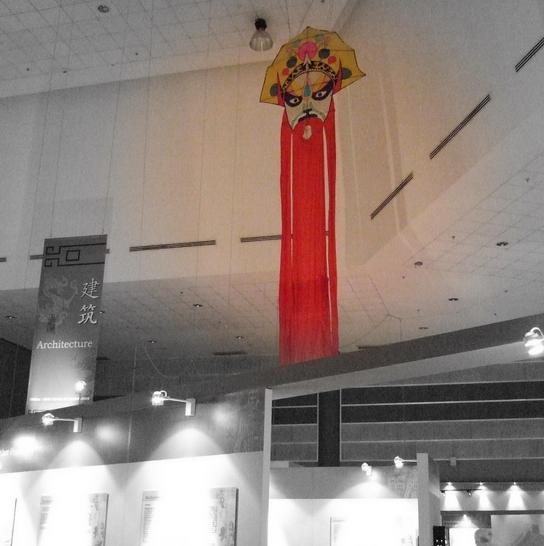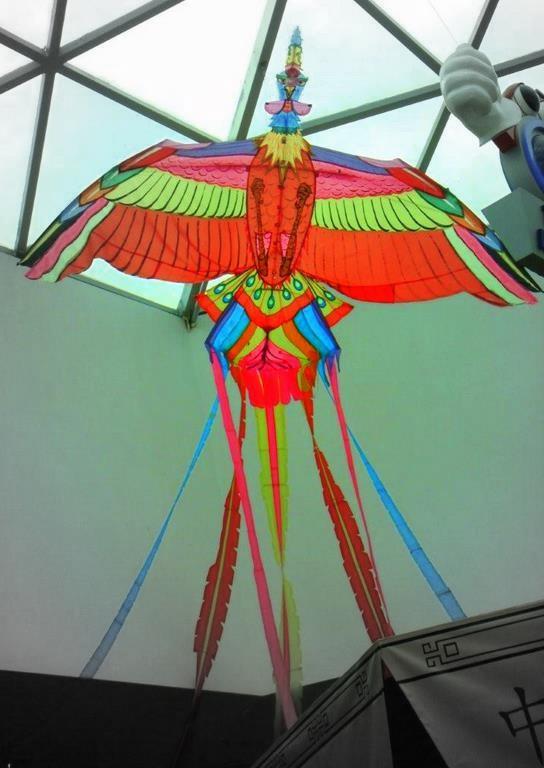 April 23, 2007
NUS HIGH SCHOOL of Math & Science
We are very honored to have helped "NUS HIGH SCHOOL OF MATH AND SCIENCE"
take flight during their Official Opening.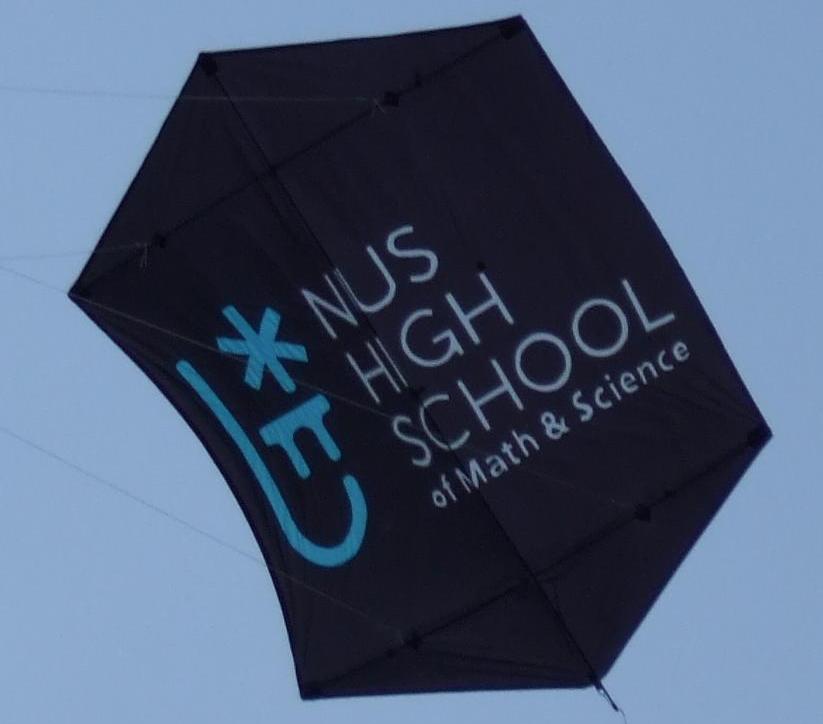 March 18, 2007
Sengkang West (Sengkang East Way - opp Blk 317B), Singapore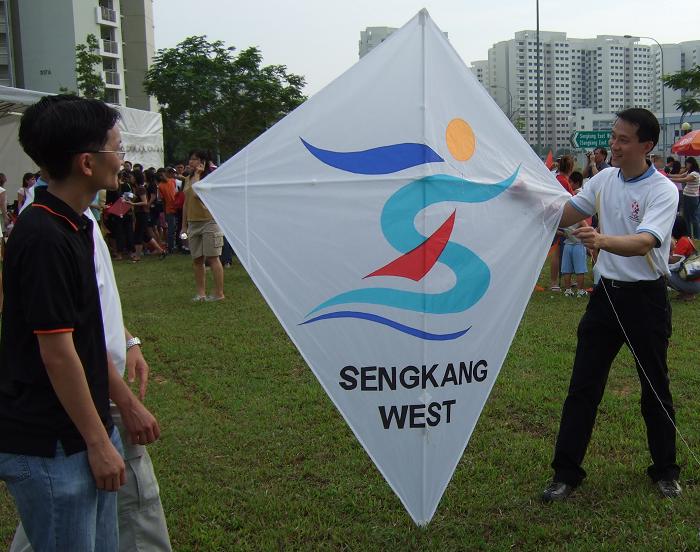 Dr Lam Pin Min at the launch of Sengkang West Division West Logo.
SKA supported the event with a 2.1 meter eddy kite with Sengkang West logo.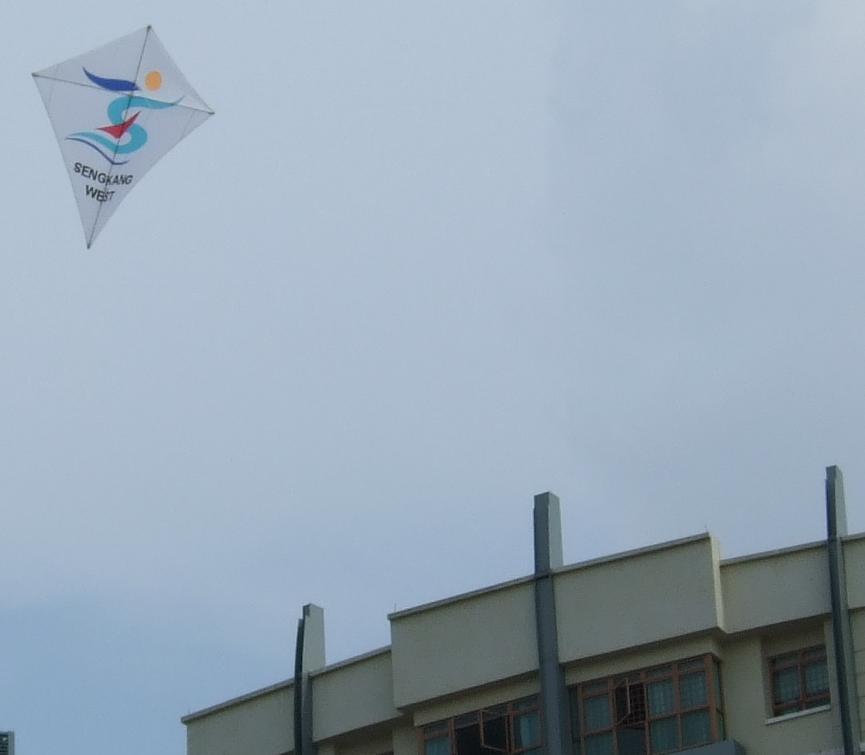 Sengkang West new logo taking flight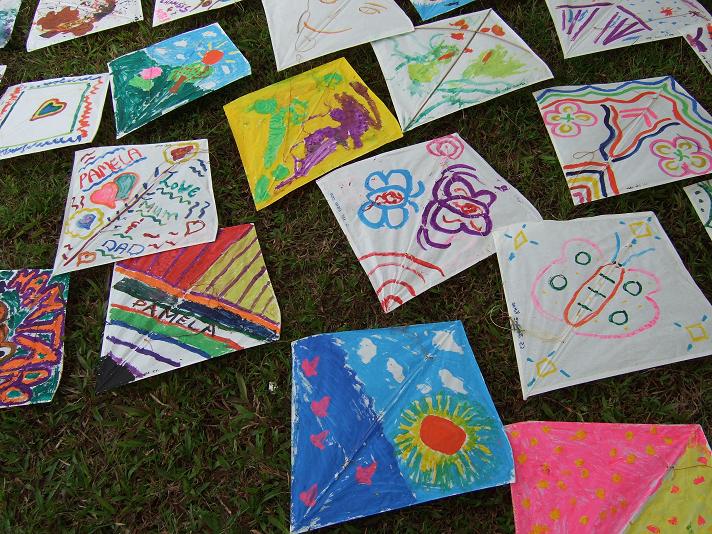 A colouring competition was also organised for the residents.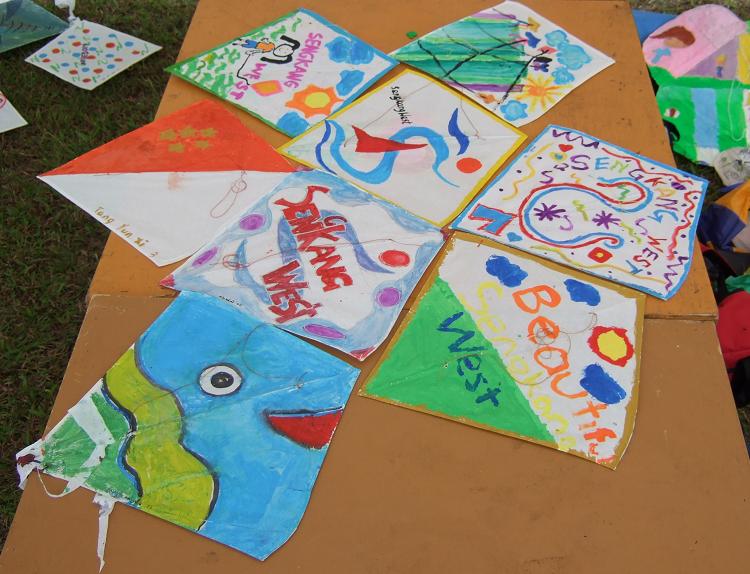 And finally the winners...
February 5-11, 2007
12th Pasir Gudang International Kite Festival 2007
SKA unveil the "Wan Merlion" on 11 Feb 2007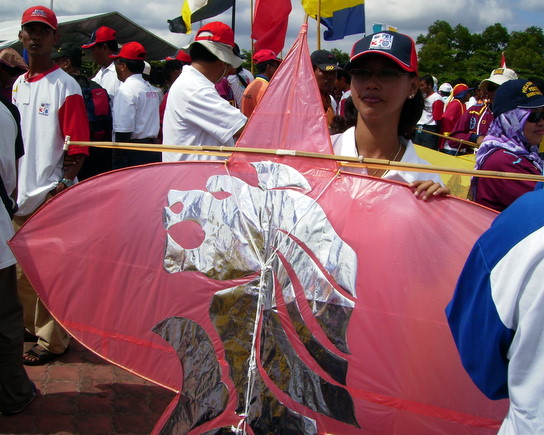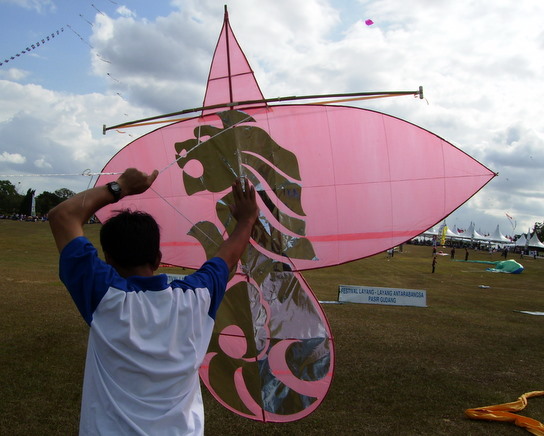 February 4, 2007
SKA Kite Day
Venue: ECP, vacant field adjacent to Siglap Canal
Free Parking: nearest car park C4 and D1

Kite flying all afternoon in 2007. We are trying to organise a kite making
session. What out for further announcement.
November 12, 2006
SKA helped organised a kite painting competition for Amriteswari Society (Singapore)
at the West Coast Park grand lawn. The theme of the event "Flying Kites for Peace"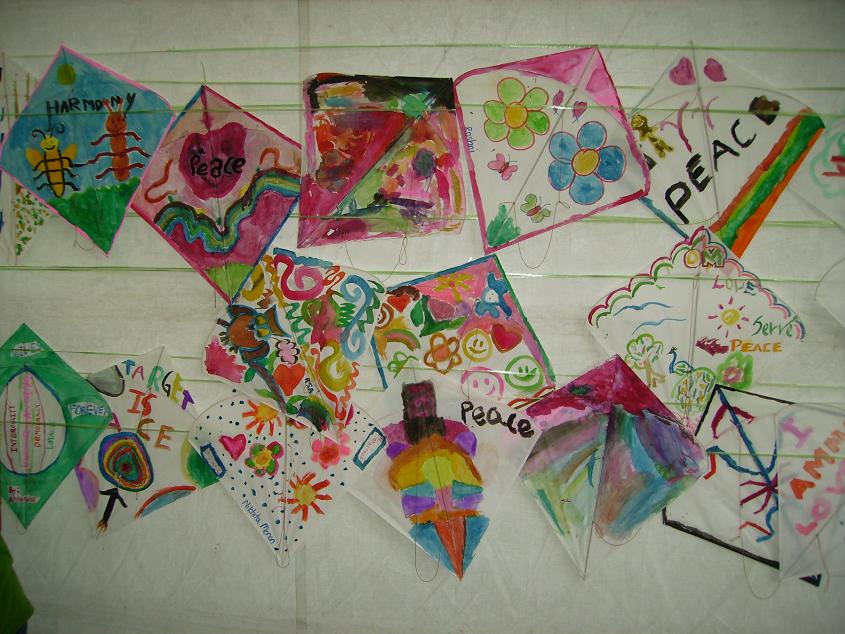 Can you spot the winning entries?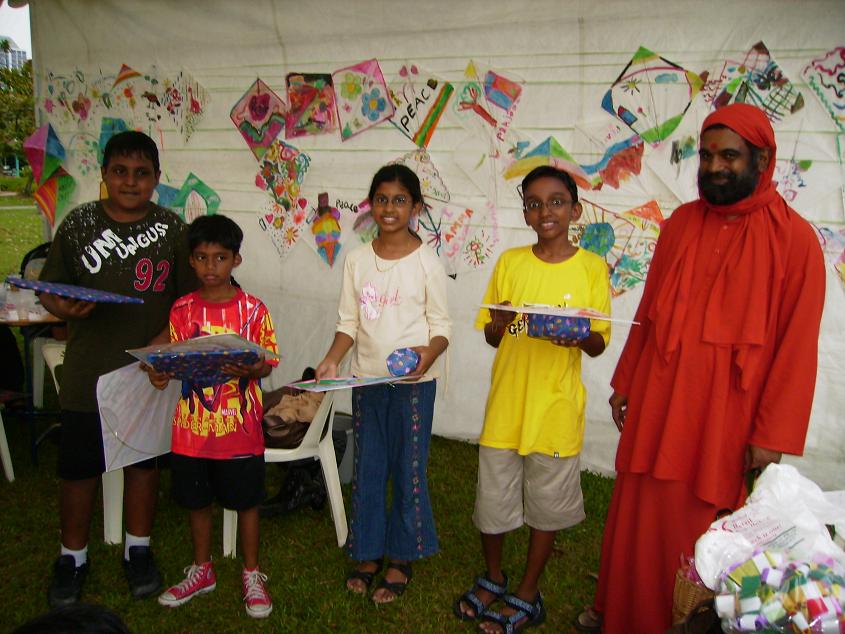 ...and the prize winners!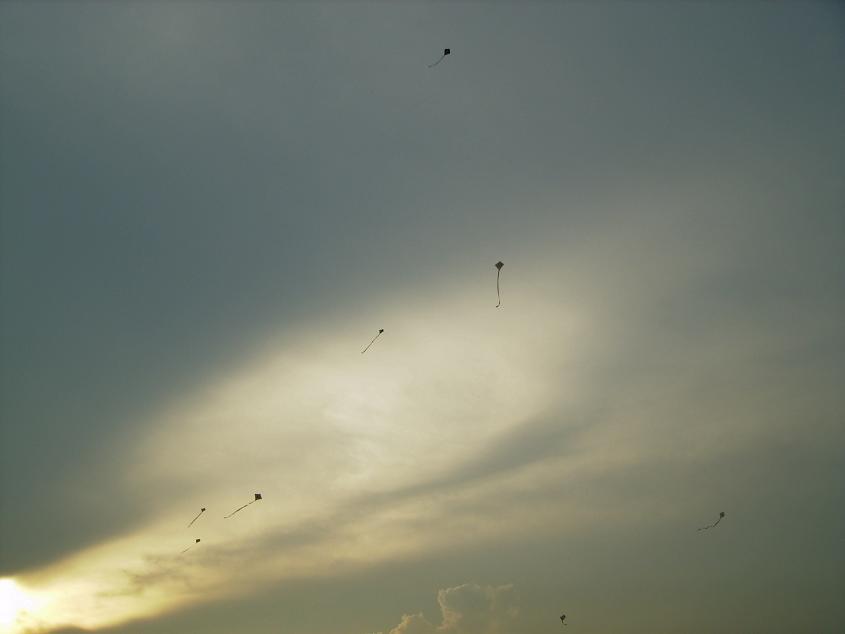 Finally, let's fly the kite!
July 26, 2006
Kite workshop at St Patrick's Secondary School as part of NLB
Kite Runners! promotion.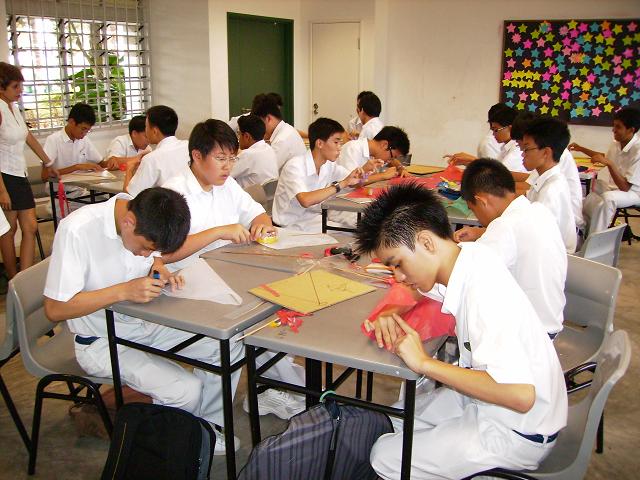 July 23, 2006
Extension of READ! Singapore 06, kite flying was organised at
West Coast Park in conjunction with the book Kite Runners!
Andrew Bi was there to capture some kites.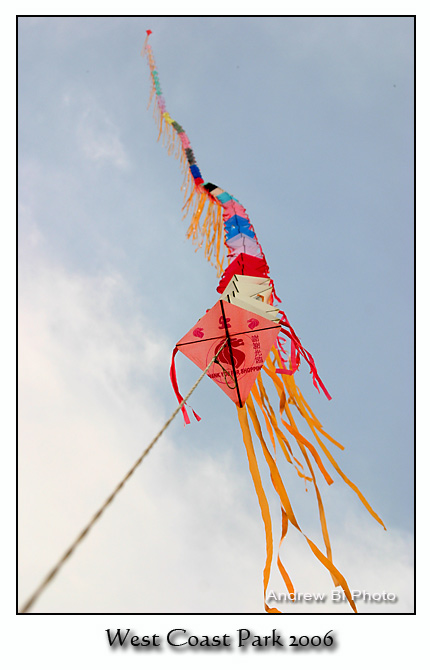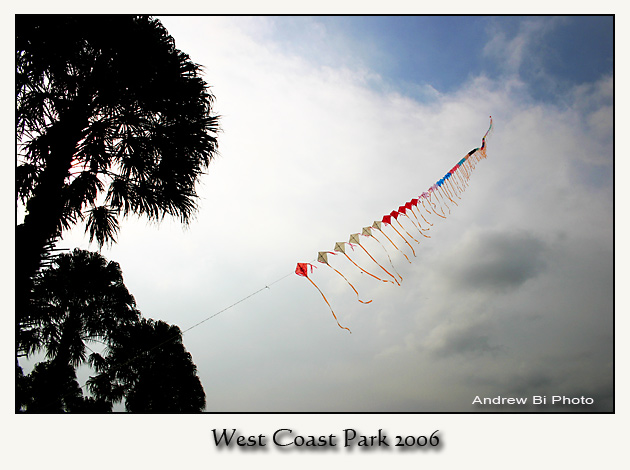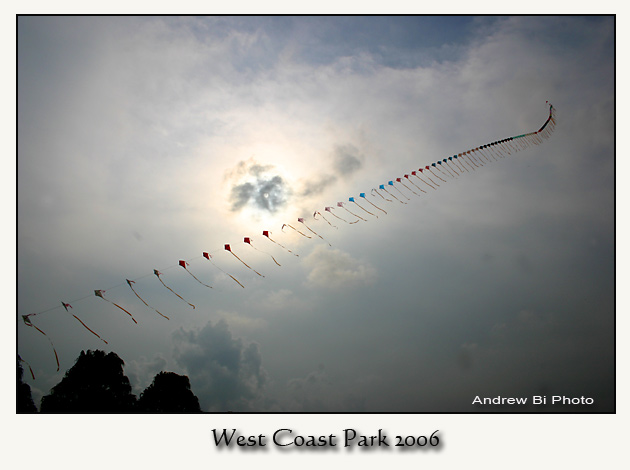 March 10, 2006
Nurturing Relationships with kites at Ping Yi Secondary School.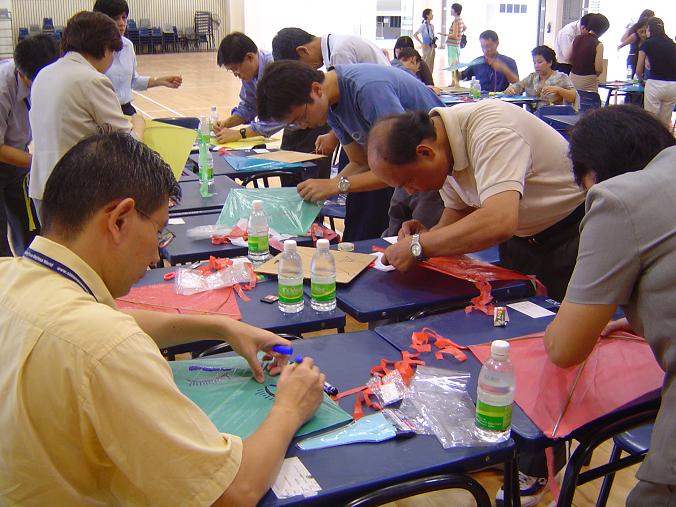 The team with the winning theme.

Feb 14-19, 2006
Pasir Gudang 11th International kite Festival
Attended by several SKA members.
Our roks flying high with new banners.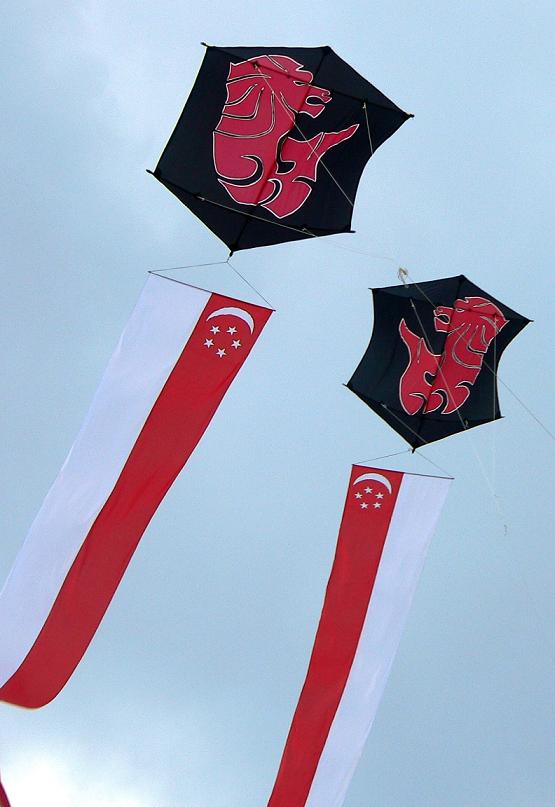 Feb 12, 2006
SKA Kite Day - West Coast Park (CP3), Singapore
Introducing the SKA roks (rokkaku)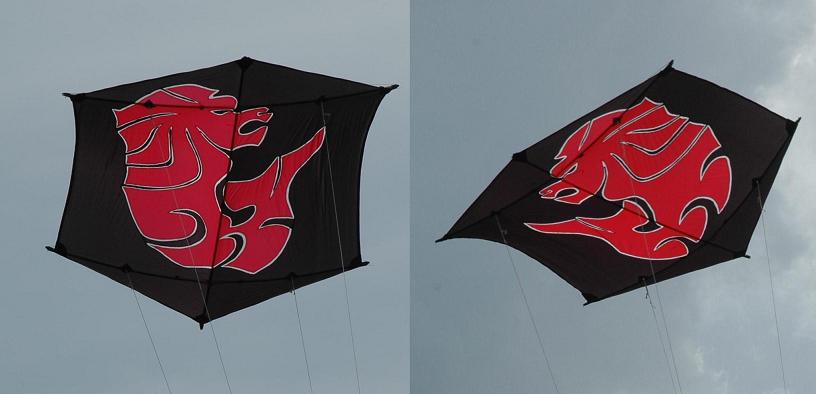 For the first time, two SKA roks flying together.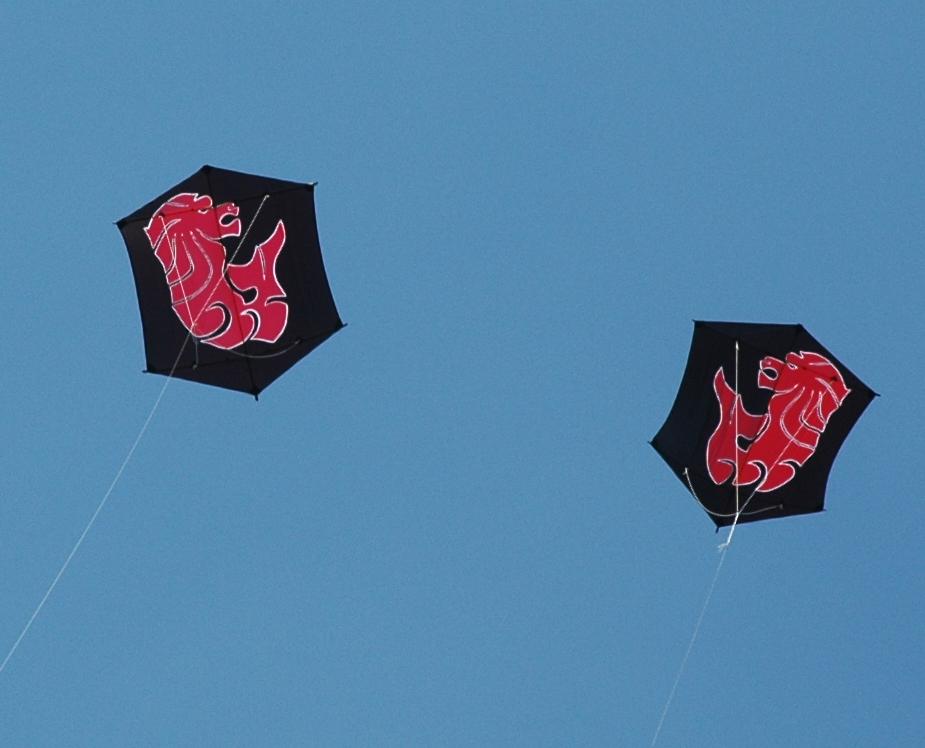 Frederic Pouillaude from France was our special guest and his 12 meter
tall blue teddy bear flew over WCP.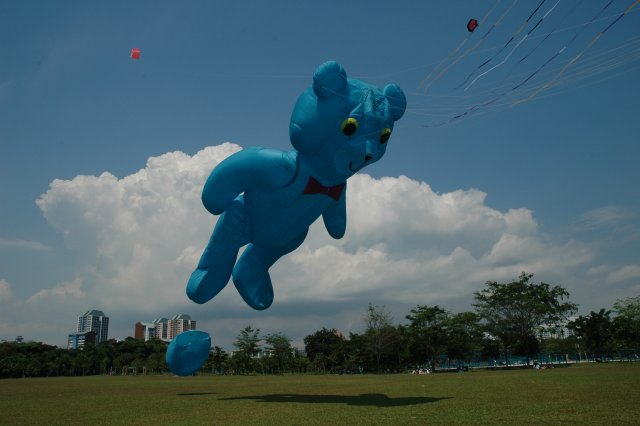 Yuwono KAP (KIte Aerial Photography) rig tested successfully.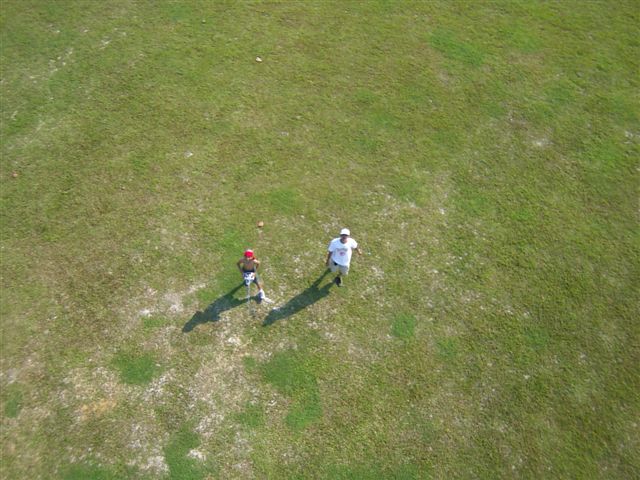 Feb 6, 2006
Shakib was studio guest at the "The Living Room" on 938LIVE
with Stanley Leong & Mahesha Thenabadu
http://938live.sg/livingroom.aspx
Feb 5, 2006
As Team SKA prepares for their kite flying day on 12 Feb 2006 at West Coast Park
(Car Park 3 from noon to 6 PM), members of the public will be able to see for the first time two
ROKKAKUs (six-sided Japanese kite) with complementary designs to be revealed and flown
simultaneously over Singapore skies to kick start the SKA flying event on the 12 Feb 2006.
Here is a preview of the kites. Diary this important event and see you at WC Park on Sunday.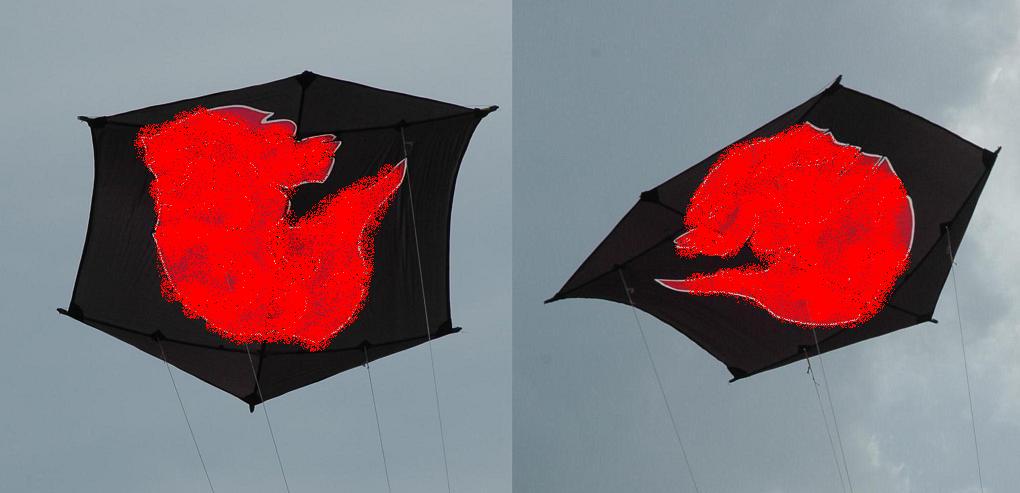 Dec 17, 2005
SKA flew the "World Kite" that is now making its way around the globe.
We were at the Esplanade to get a uniquely singapore backdrop.
For more photos on the world kite, visit:
http://groups.msn.com/GoatHillGang/theworldkite.msnw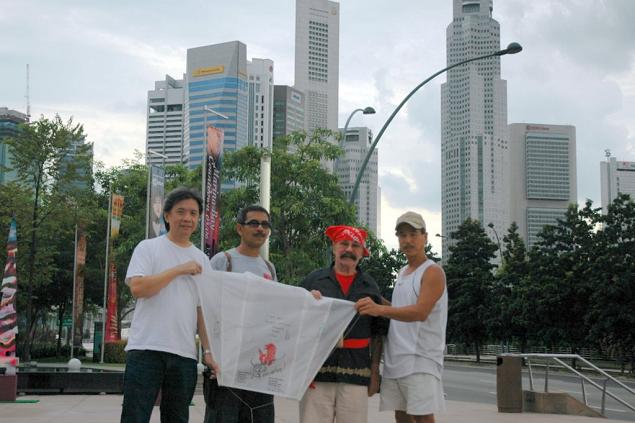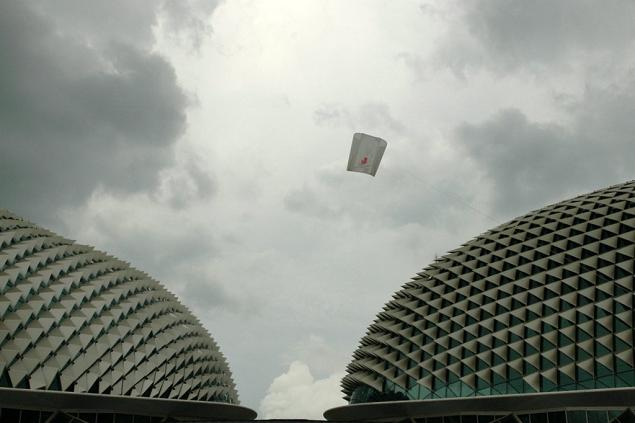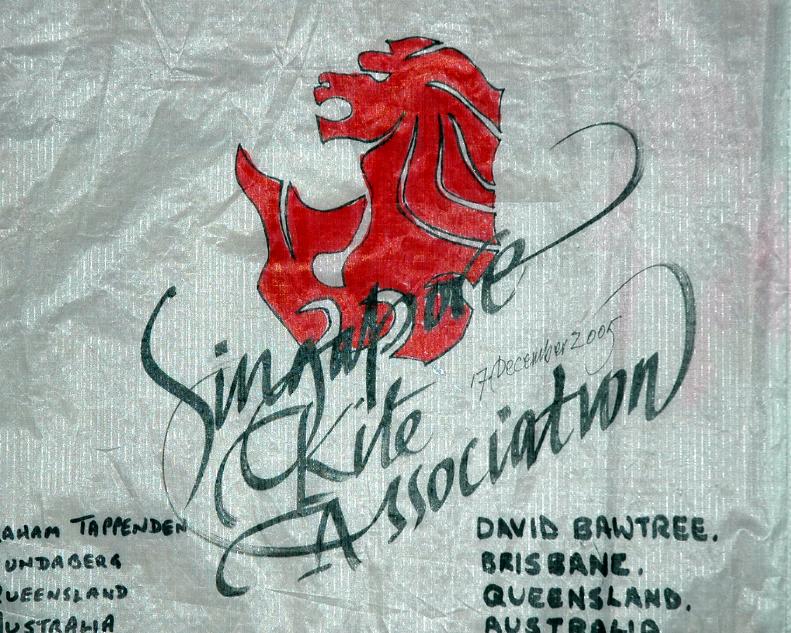 9 Oct 2005 - One Sky One World : Worldwide Kite Flying For Peace
For more info visit: http://subvision.net/sky/osow/
This year we flew our kites at East Coat Parkway.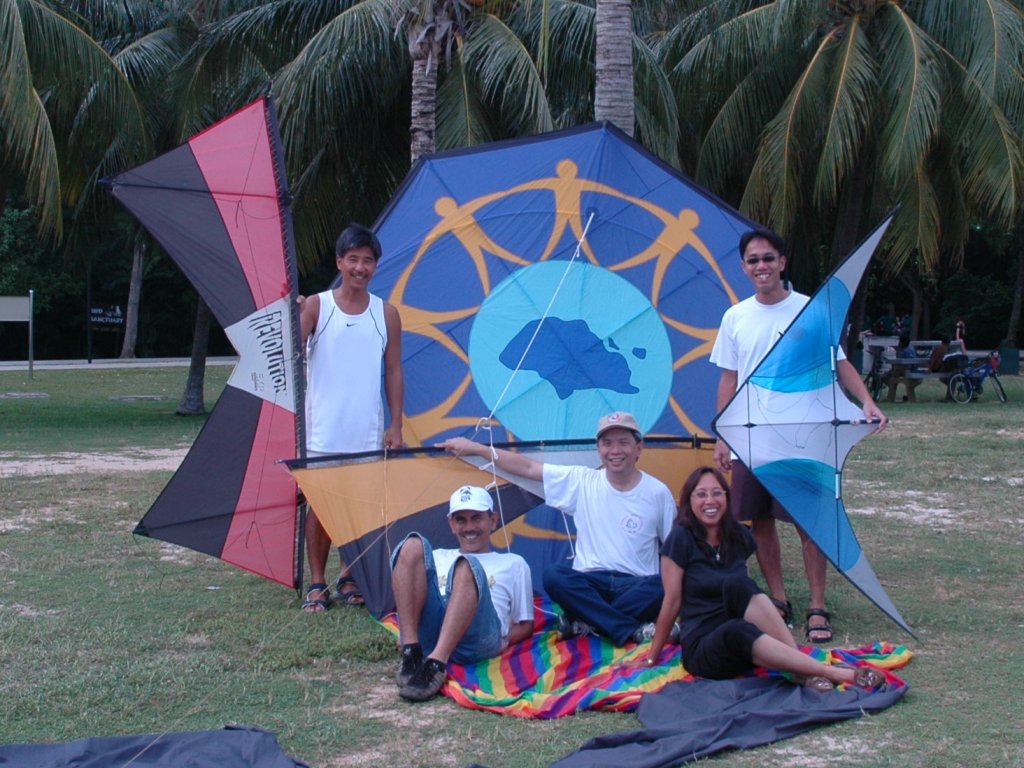 September 2-4, 2005
Korean Peace Festival 2005
Beyond the DMZ from the first of August to the eleventh of September in South Korea.
Singapore was represented by Gadis Widiyati and Robert Foong.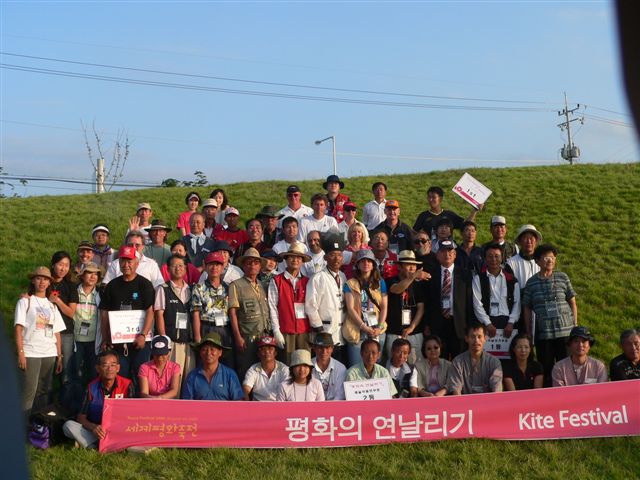 August 21, 2005
Marina Bay, site of the proposed IR.
'Born to fly' grandmother 106, now tries a dive from 12,000ft
She made an experimental flight in a chair under a kite while holding an umbrella aloft at Woodlands in February 2005, later that month she made her official debut at the 10th International Kite Festival at Pasir Gudang, Johor.
Her name is 'Opah Terbang' (Flying Grandmother) and according to Shakib Gunn, founding Member of the Singapore Kite Association, she is the mascot of the association and she was born to fly.
Opah Terbang, dressed in smart batik pants, fashionable court shoes and with wavy silver hair looks every part the smart grandmother, except that she is not human.
Shakib explained, "Although she is full size and sexy, for her age, she is in fact full of air. Free-falling with her from 10,000ft at 220 kilometers per hour before the parachute opens presents a challenge, she could disintegrate into the thin air or blow up."
Three people will be involved in the dive this Sunday on the last day of the Second Skydive Festival Singapore being held at Marina Bay. Professional skydiver and tandem-master for this experiment will be Mark Gazley 32, from Melbourne who will harness Shakib Gunn 71, who in turn will be taped to Opah Terbang.
Opah Terbang and Shakib even has a Cert to prove it:
August 21-28, 2005 - Bintulu Kite Festival

The eight-day event is organised by Persatuan Wau Kuching Sarawak (Pewasa) under the patronage of Sarawak's Chief Minister Pehin Sr Dr Haji Abdul Taib Mahmud with cooperation from Bintulu Resident Office, Bintulu Development Authority, Sarawak Economic Development Corporation, and Malaysia Kites Council.
Visitors will witness various events including a demonstration by international kite-making experts on making creative and stunt kites and Malay kitefighting competition.
Various Malay kites, such as Wau Merak of Johor, Wau Seri Bulan of Perak, Wau Helang of Perlis, and Wau Kapal of Selangor, will be displayed at the festival.
There are also national-level kiting competition, traditional kite-making competition and workshops.
Among the countries that will take part in the festival are New Zealand, Australia, Indonesia, Japan, Singapore, China, and South Korea.
The Singaore Team attending are:
Peter Teo, Tan Poh Wah, Tan See Liang and Robert Foong
August 14, 2005 - Singapore, Sembawang
Celebrate! Sembawang! was an event organised by the Sembawang Citizens' Consultative Committee. The local residents celebrate 40 years of nation building with a solemn March Past and mass display performances such as Silat, Yoga, Line Dance and Dragon Dance.
SKA was there to showcase a range of kites and to facilitate the Kite Painting and Making Competitions.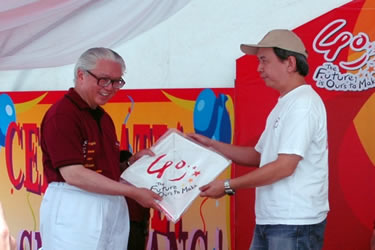 A token hand-painted kite was presented to Dr Tony Tan by the SKA President
30 July 2005 - Singapore
South East Sand City II and Family Hub Launch - , 3 - 7PM
Organised by South East CDC, this event features a sandcastle competition, a product launch, as well as many exciting fringe activities. SKA have been invited to participate in this event by performing Kite Acrobatics to entertain the crowd.
July 8-10, 2005
Jakarta International Kite Festival,
We have been informed that the Jakarta Kite Festival planned for July has been combined with the 2006 festival. Currently the organisers are planning for a kite festival every two years.
For more info email: le-gong@centrin.net.id
July 4 to 11, 2005 (flying show July 8, 9 and 10)
Invitation received from Lebanon. Nil SKA attendance.
"THE PHOENICIANS" will be therefore the theme of the 6th International Kite Festival in Lebanon.
About 3000 years ago, the Phoenicians lived in the area of today's Lebanon. They grounded trading centers all around the Mediterranean, and even reached America, according to some researchers.
There are many inspiration sources for building kites around the theme of the Phoenicians: the legend of Adonis, the legend of Europe kidnapped by Zeus on the beaches of Tyre and taken to Crete, the Phoenician alphabet that was the origin of the Greek and the Roman alphabet, and therefore of the Latin alphabet, etc...
Following are some web pages in English and French for further inspiration:
http://home.cfl.rr.com/crossland/AncientCivilizations/Middle_East_Civilizations/Phoenicians/phoenicians.html
02 June 2005
Several kites constructed by Pre-U students took flight at Woodlands Drive 17.
Here are some pics: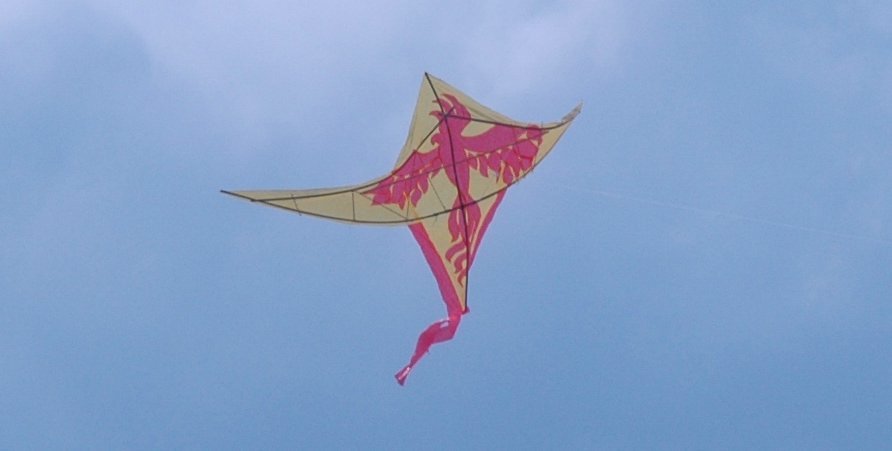 Highest flying kite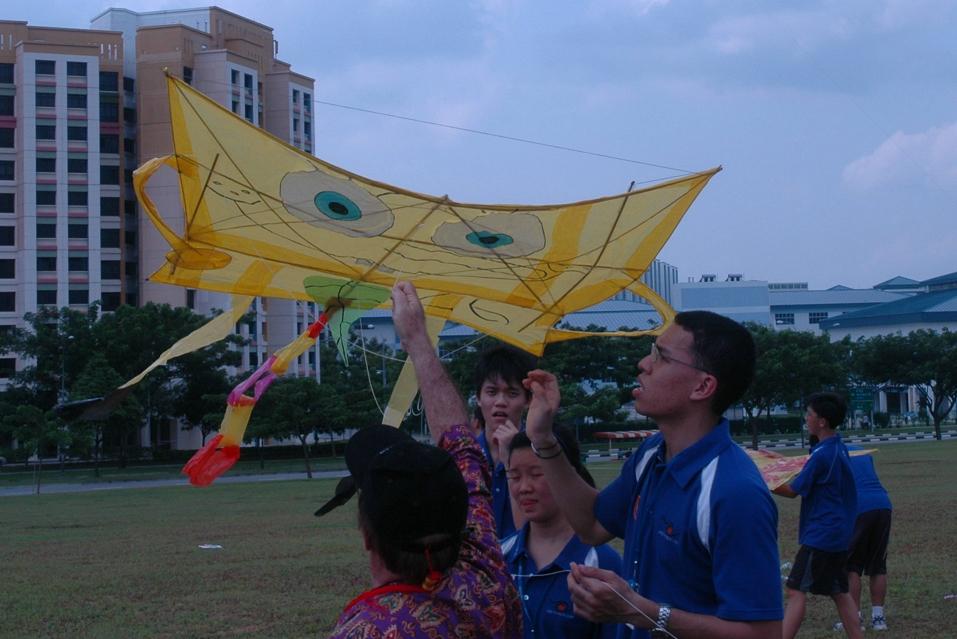 Shakib helping out with the bridle on Sponge Bob kite
30 May 2005
SKA at JJC Pre-U Seminar to deliver a talk on kites and construction of
asymmetrical kites. We expect to see 57 asymmetrical kites on 2 Jun 05.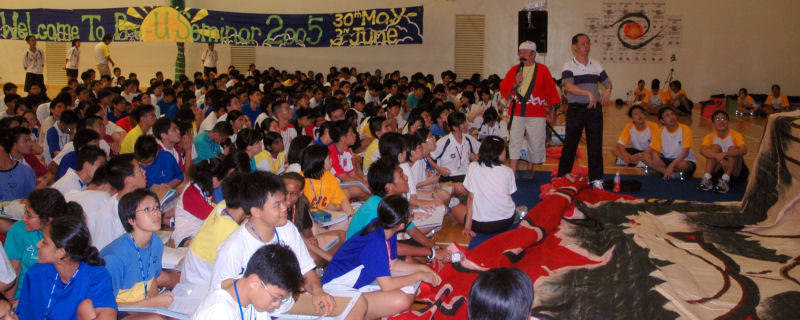 19 -24 April 24, 2005
Hosted in the city of Weifang,China which is located within the
Shandong Province.
http://www.weifangkitefestival.com
"A kite shaped like Olympic rings flies at the Weifang Kite Festival in
Shandong Province April 21, 2005. About 50 teams from over 40 countries
and regions compete this year's kite-flying competition, which is themed
on the Olympic Games. [China Daily]"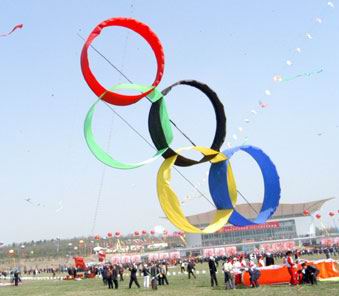 06 March 2005
Who says that kites must be symmetrical in order to get airborne?
We tested our 1m x 1m asymmetrical kite from recycled material today.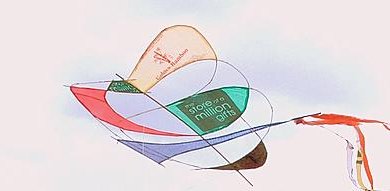 23-27 February 2005
Pasir Gudang 10th International Kite Festival
Venue : Bukit Layang Layang, Pasir Gudang, Johor, Malaysia
(visit their web site)
click here for more photos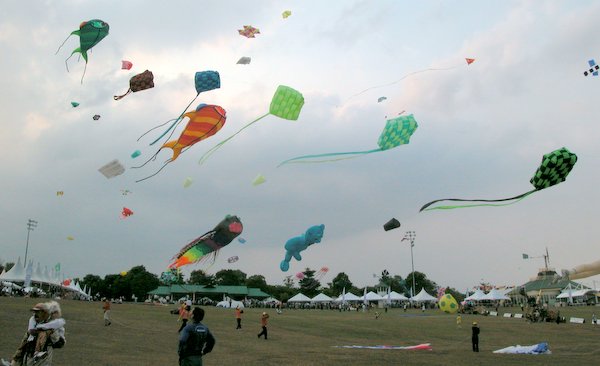 The kutupat inflatables at the festival. The Kite Museum is on the bottom
right. Can you spot Opah ?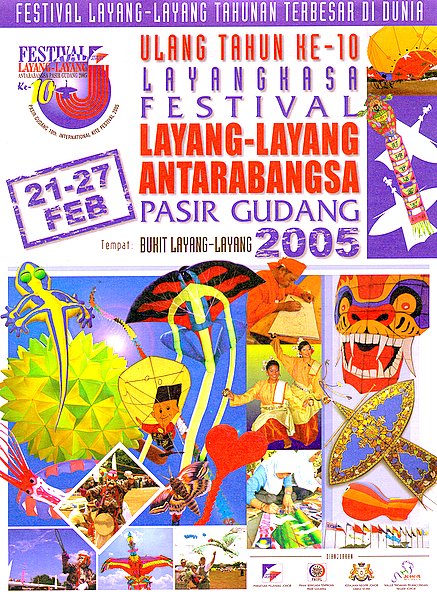 Ta da...the official festival flyer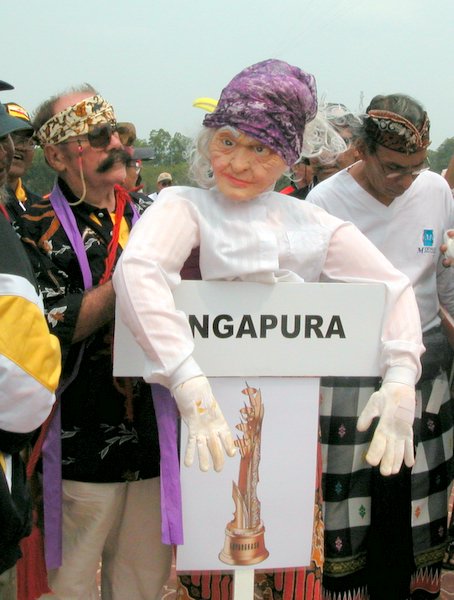 Meet Opah Terbang, our oldest SKA kite member at the opening
ceremony.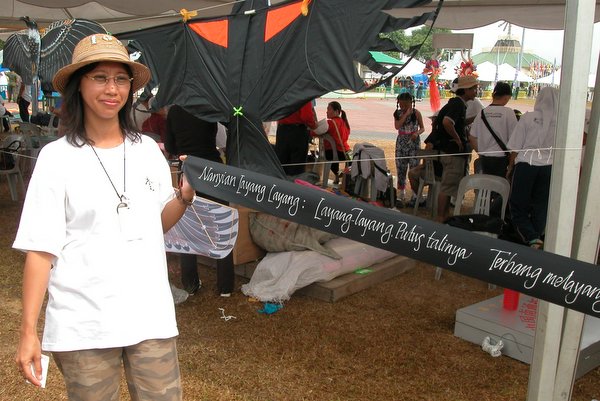 A hand written message streamer before attaching to the flying line, the message
was specially composed for the festival by Kassim Ahmad of Penang:
NANYIAN LAYANG-LAYANG
Layang-layang
Putus talinya
Terbang melayang
Tahukah kamu
sampai ke mana?
Hari ini kita berpamir di Pasir Gudang
Saban tahun kita datang
Melihat temasya layang-layang
Bergembira dan berkenal buat sejenak
dan kedudian pulang
Tahun ini badai tsunami
Melanda banyak panti negeri
Aceh kena teruk sekali
Mengapakah jadi begini?
nampaknya manusia tak pandai jaga diri
Layang-layang putus talinya
Jangan pergi jauh nanti sesatnya jadinya
Mari kita kaji kembali
Perjalanan kehidupan kita di bumi
mungkin terbabas dari jalan Ilahi
KASSIM AHMAD, PENANG
SONG OF THE KITE (English version)
(This is not a translation of Nanyian Layang-Layang)
Kite!
Fly, fly into the azure sky
What a wonderful day it is in Pasir Gudang
in my beautiful country of Malaysia
But what a sight of horror was there
When the tsunami waves suddenly pounded our shores
and around the Indian Ocean rim
Taking lives innocent and sinful
that is apparent to the eye
Oh kite, do you know what that means?
Our happy lives disrupted and thrown our of gear
Maybe we have to rethink the way we live
With war, poverty, pollution and whatnot?
don't you think so, my kite?
Fly, fly into the azure blue
Is there a limit to the sky?
Not that I can see
I would want mankind's life so to be
like the sky, limitlessly high
KASIM AHMAD, PENANG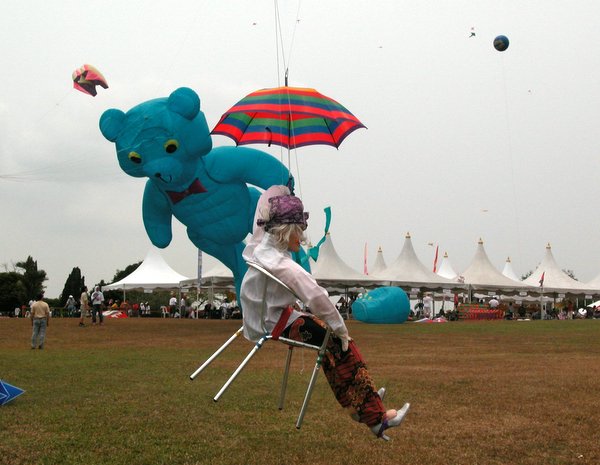 Opah Terbang
Flying grandmother is a re-enactment of an event that took place in 1844,
over 160 years ago. Dr. Colladon, a Swiss gentleman and early kite inventor,
watched his brother-in-law send flowers and fruit up the kiteline on a parachute.
Dr Collandon decided to send up something more spectacular – he made a
lifesize dummy of a lady sitting in a chair with an umbrella.
In Persatuan Layang-Layang Singapoura's re-enactment, a lifesize dummy,
'Opah Terbang' aged 92, is being lifted will fly over the crowd in a chair with her
colourful umbrella, seluar panjang batik and silver high-heeled shoes -- while
of the ground her equally aged helper waves an identical umbrella.
Here are some photos from NST (in case the links get broken)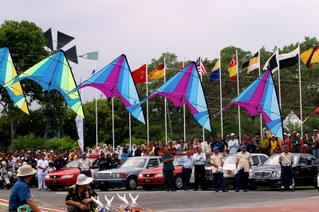 "STUNNING: Stacked stunt kites taking off at the annual International Kite Festival
at the Bukit Layang-Layang in Pasir Gudang, Johor. NST Pix by Zain Ahmed"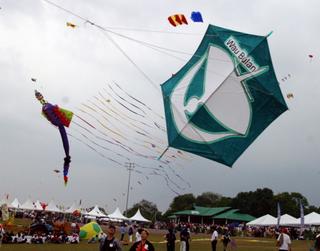 "TRADITIONAL TOUCH: A Rokkaku (four-bridled, six-sided Japanese traditional kite),
carrying a wau bulan motif. It is among the many kites and wind crafts put up for show
at the vastly popular annual International Kite Festival at the Bukit Layang-Layang
in Pasir Gudang, Johor. NST Pix by Zain Ahmed"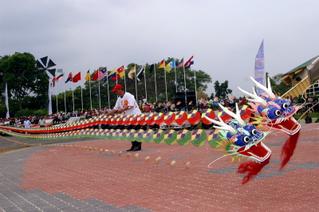 "MAJESTIC: A pair of train kites in the form of two dragons waiting for the wind
to take off at the annual International Kite Festival at the Bukit Layang-Layang
in Pasir Gudang, Johor. NST Pix by Zain Ahmed"
20 February 2005
Singapore Kite Association Kite Flying Day
Venue : Pasir Ris Park
Time : 10:00 AM - 6:00 PM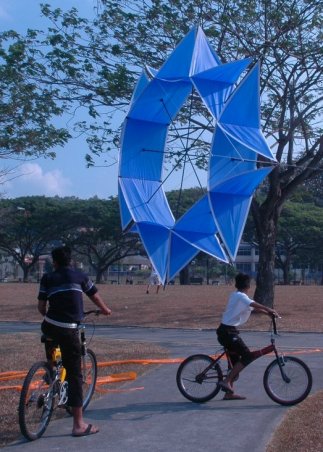 This is our STAR stopper.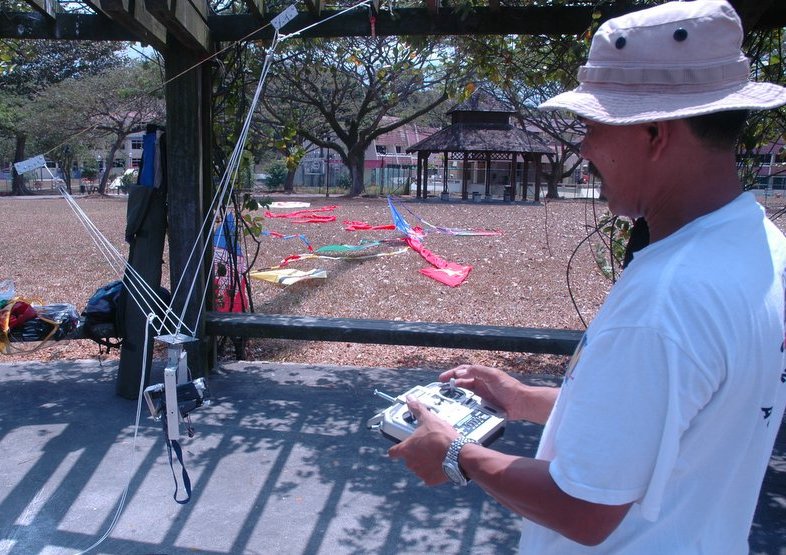 Yuwono testing his KAP (Kite Aerial Photography) rig for PG fest next
week. He will be transmitting video to a ground monitor to get a bird
eye's view of the festival right from the clouds.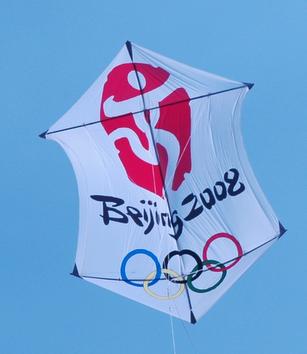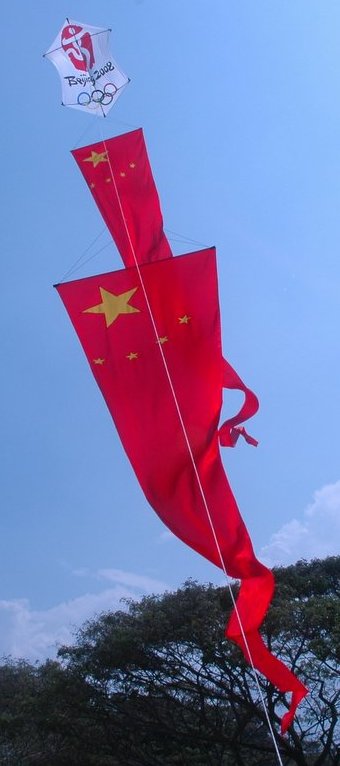 Steve is ready for 2008. Catch this kite in PG or in Tenniman Square.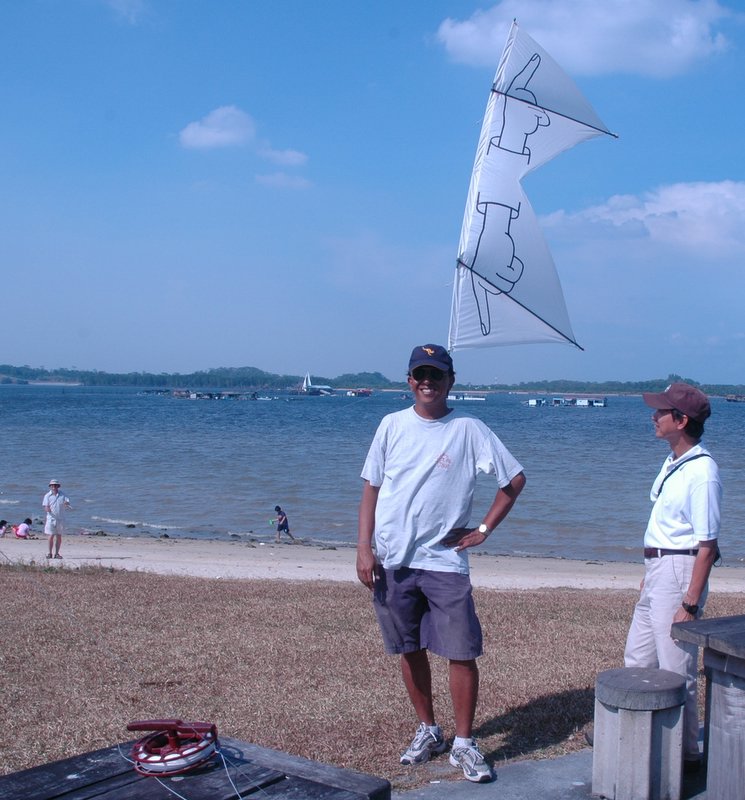 Who's Abu? Steve using his pointer kite to locate Abu with his precision
piloting, Jack looks on.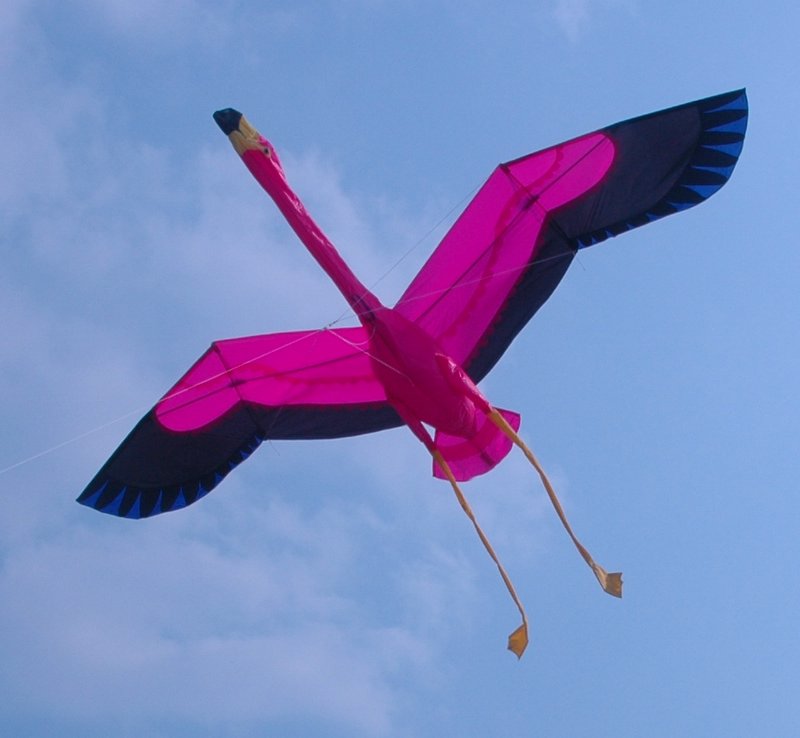 Introducing Joeel's pink flamingo 3D kite.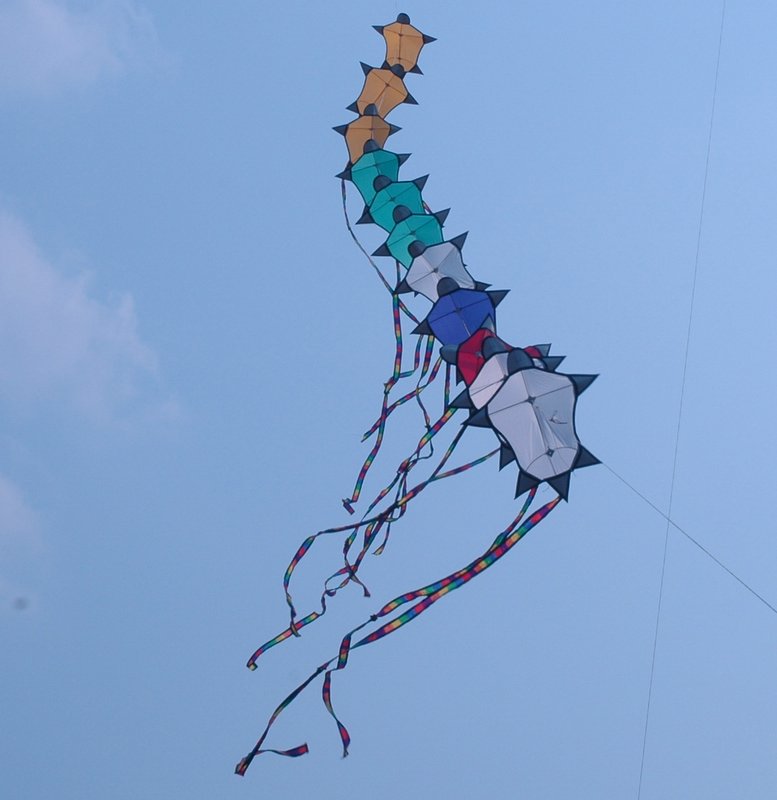 and not forgetting Gadis's Terrapin train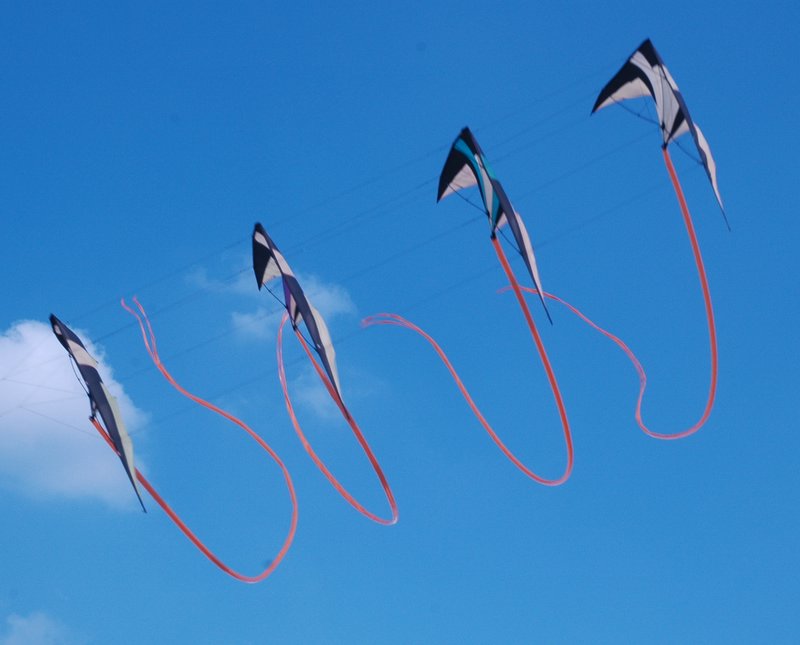 Peter's stack of four dual line stunt kite "roaring" the Pasir Ris skies.
January 11-14, 2005
Gujarat International Kite Festival 2005, Ahmedabad
Since 1989, the Tourism Corporation of Gujarat has been organising the
International Kite Festival in Ahmedabad. This year is no different and the
Government of Gujarat along with the Tourism Corporation of Gujarat is
celebrating the festival of Uttarayan by organising an International Kite
Festival at the Police Stadium in Ahmedabad on 11 January 2005.
SKA member Gadis and Peter Teo attended.
Peter writes again:
"The opening ceremony was held at the police stadium on the 11 Jan.
Many kites from the International teams were put on display.
Unfortunately, not many kites were in the air as wind condition was poor.

The cities of Patan and Gandhinagar was our next two days flying
location respectively. There again the wind does not make good flying possible.

Uttarayan, on the 14 Jan was a day where all young and old people came
out to fly fighting kites on rooftops and even roadside. We have the pleasure
of flying them on the rooftop with the honorable Chief Minister of Gujarat.

As the one looks out over the skyline of Ahmedabad, or any other city of
Gujarat one cannot fail to experience a lifting of the spirit, and a lightening
of mood as one witnesses a sea of fluctuating colours
as small kites dart in all directions against a clear blue backdrop."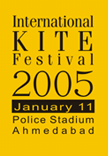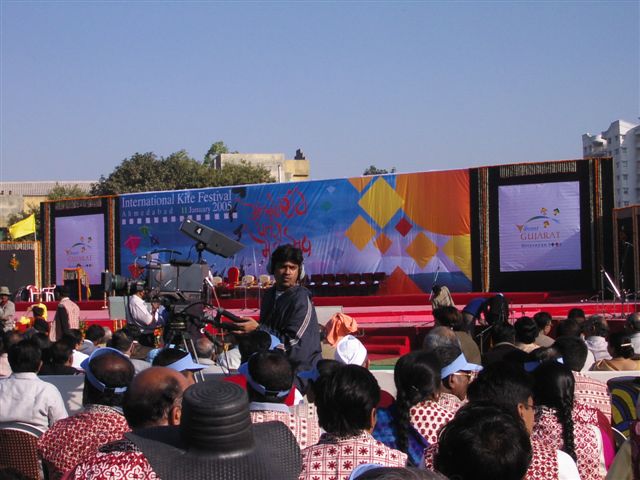 Above: Opening ceremony at the Police Stadium
Below: Group photo after rooftop kite flying session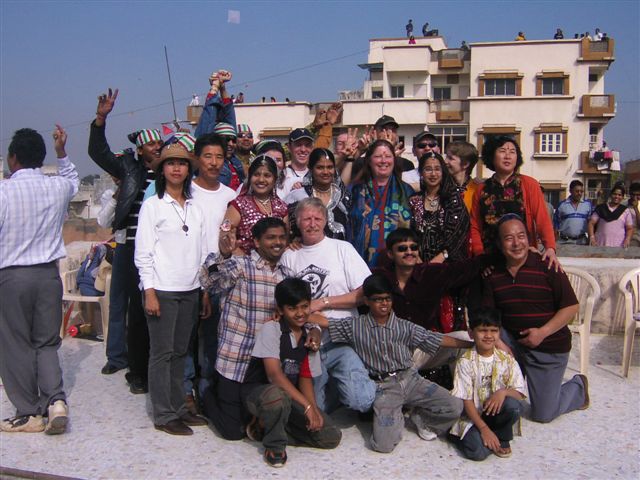 December 11-12, 2004
Phnom Penh Kite Festival

Attended by Gadis. Gadis has been asked to assist in the ribbon cutting
ceremony.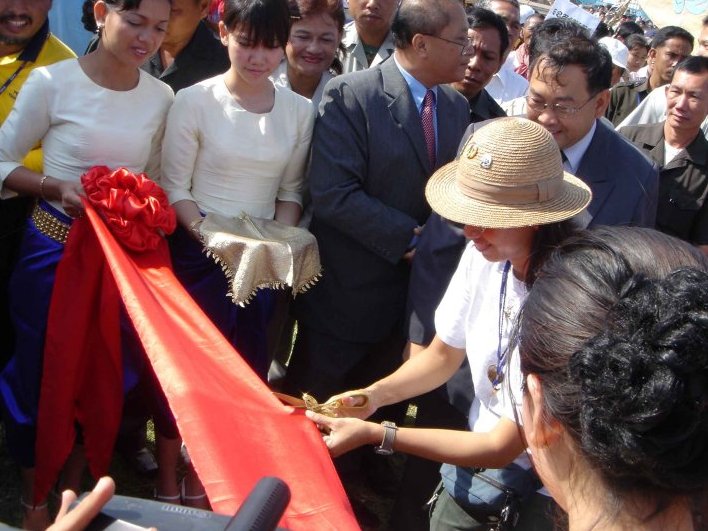 December 9-14, 2004
Goa Kite Carnival
In conjunction with International Film Festival of India (IFFI), Many Indian
and international film stars will be there for kite flying. SKA members
Robert Foong and Peter Teo attended. Peter writes:
"Goa Kite festival held on the 9th to 14th Dec 04 was attended by Robert
and Peter. SKA the only team from the Asian Region.

This festival is unique on its own. There were no fancy ceremony but lots
of flying for the 3 days. Wind condition was very good. Sandy beach about
the size of 2 to 3 football field at Miramar Beach was our flying location.
Here we have the public mingling and flying with the international flyer.
Each flying day end with an evening of song and music performed by
local artist on a huge stage set up by the flying area."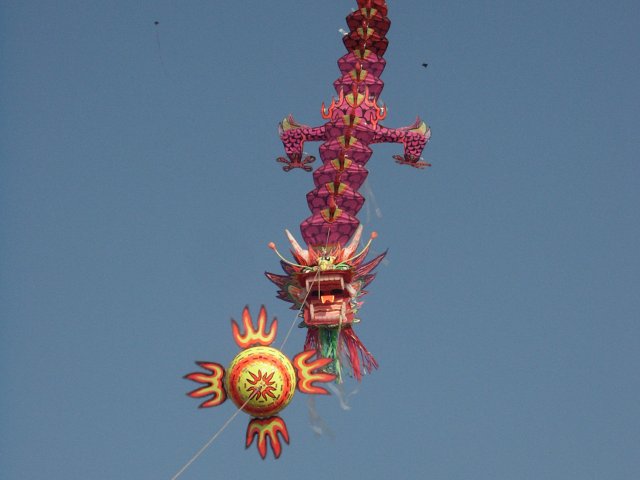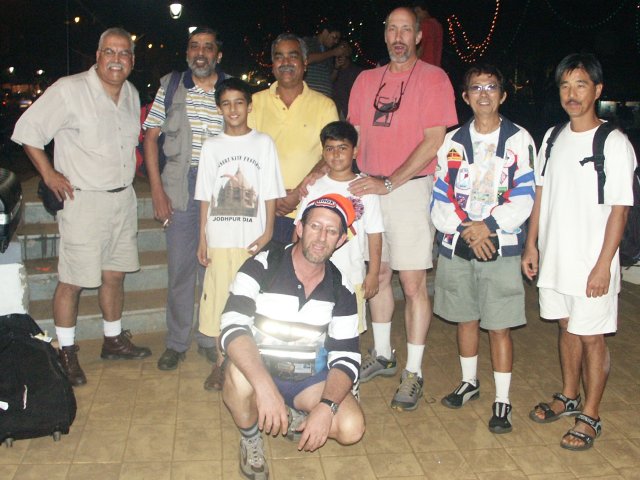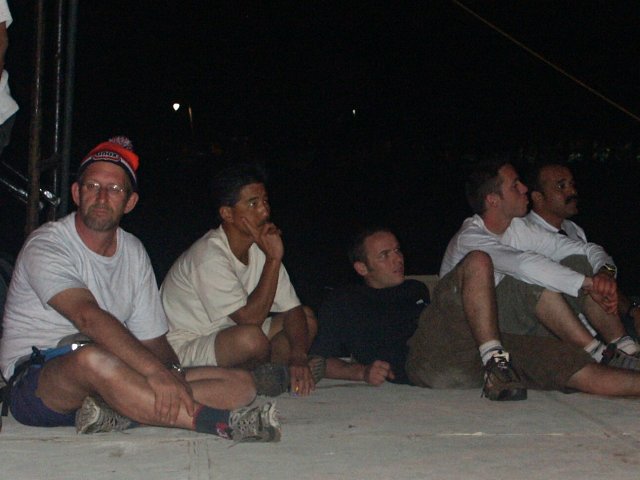 November 11-15, 2004
NanTou International Kite Festival invited by Nantou County Government, Taiwan, R.O.C.
Three SKA members attend:
Tan See Liang, Tan Poh Wah and Peter Teo
November 7, 2004
SKA at Think Green! carnival, ECP (Carpark D1).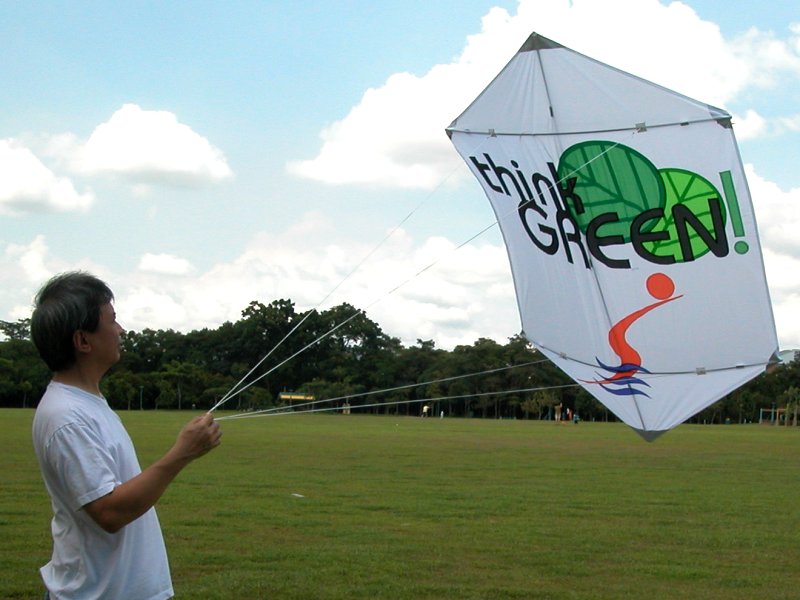 This is the customised rokkaku that we made for the event.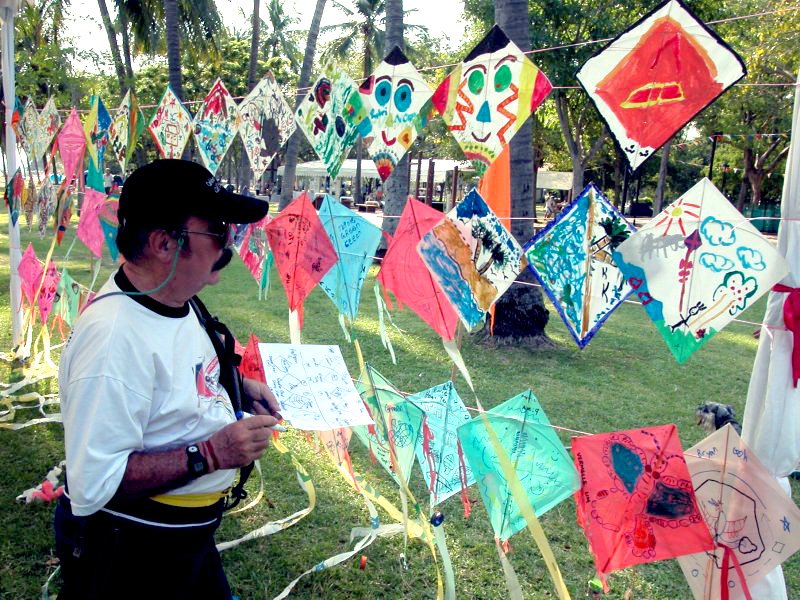 One of the judges at work.
October 31, 2004
AGM at Pasir Ris Park near BBQ Pit "D"
October 10, 2004

Today is OSOW "One Kite One World" kite flying day for world peace.
SKA hand painted a special OSOW kite for this occasion.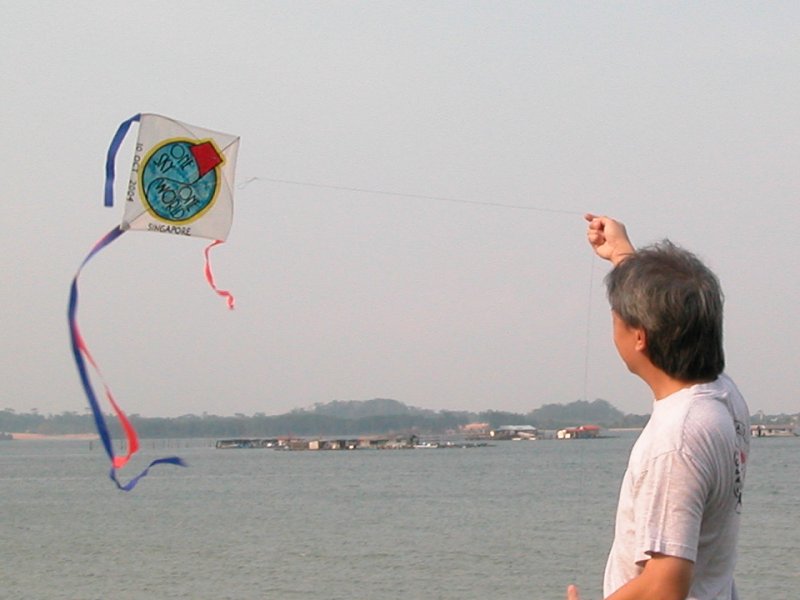 October 9, 2004
Kite Coloring Competition at SCS private function. SKA also built a
special Rokkaku specially for their function.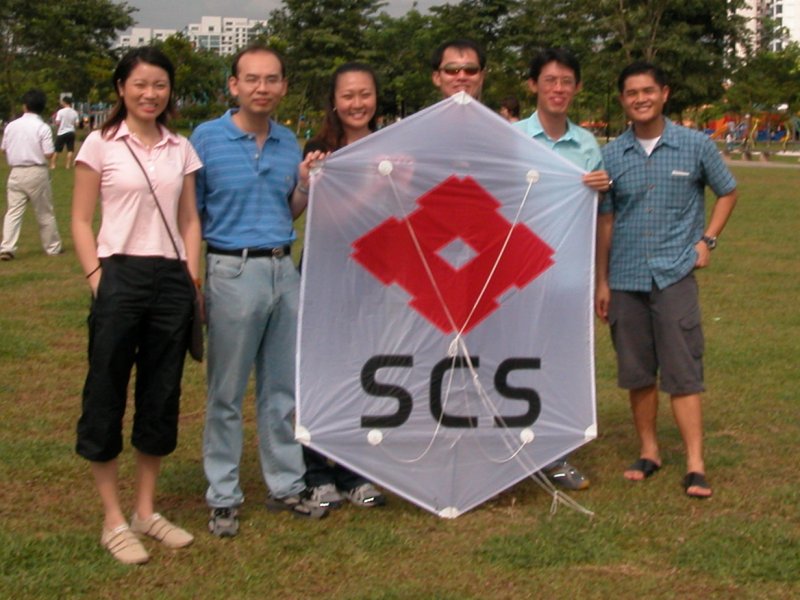 Let's the Coloring Competition begins....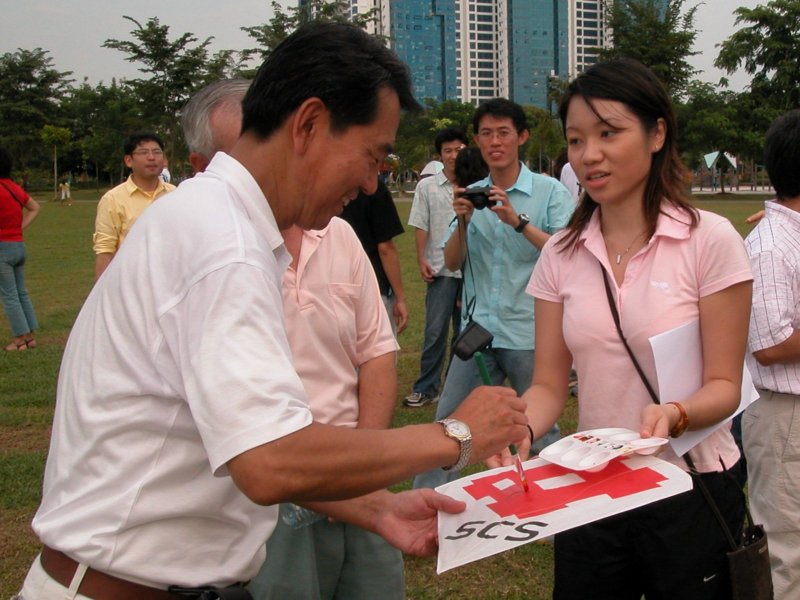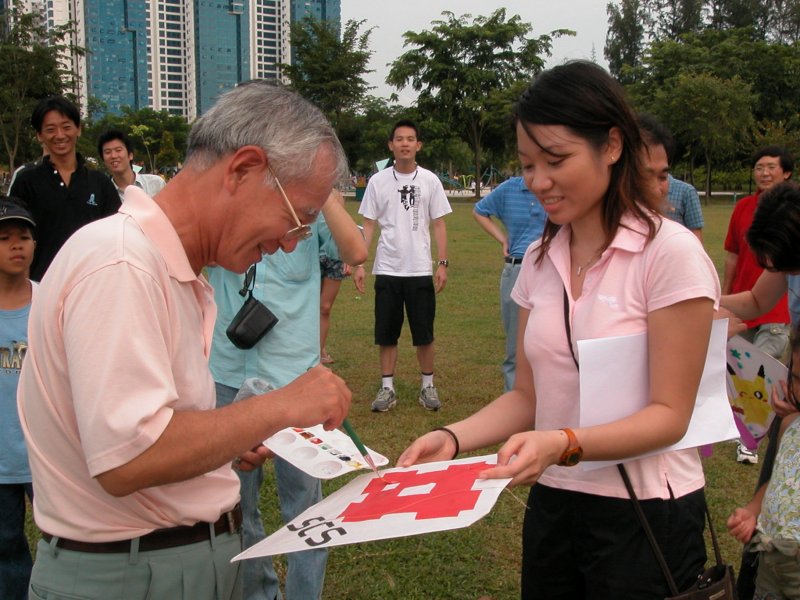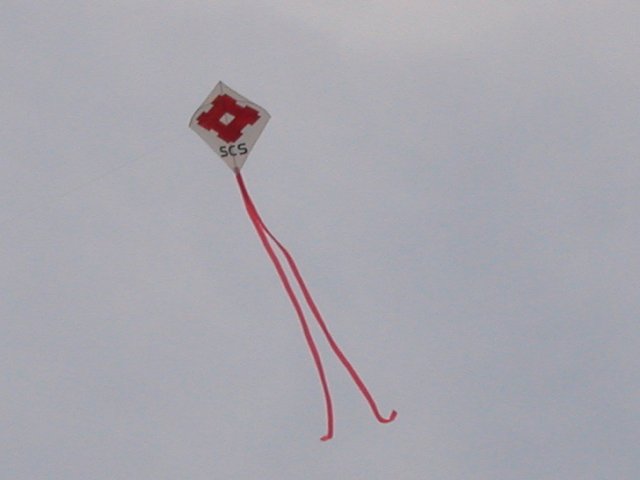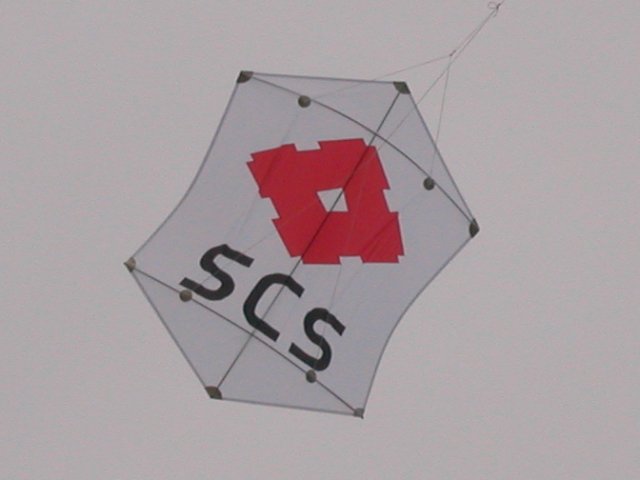 and finally, some of the painted kites ready for judging...
(actual size is 800x600 - please use "Save Picture As..." function)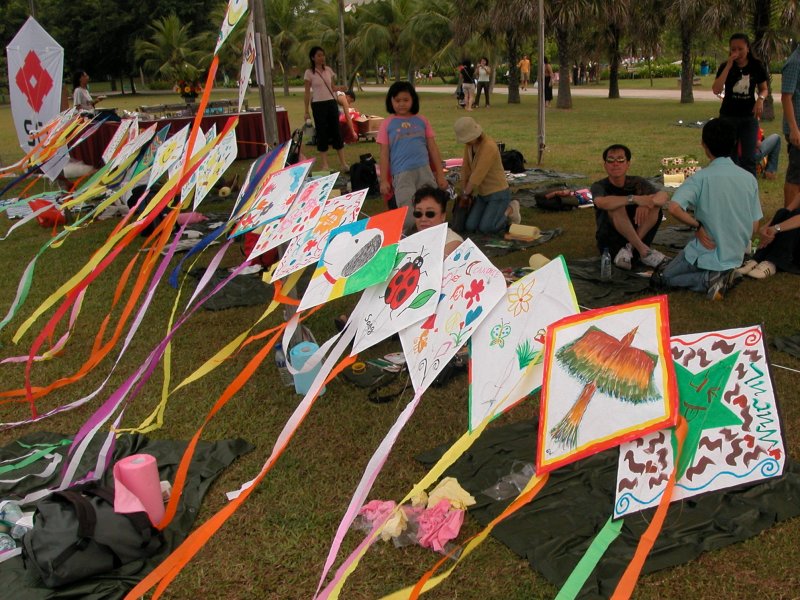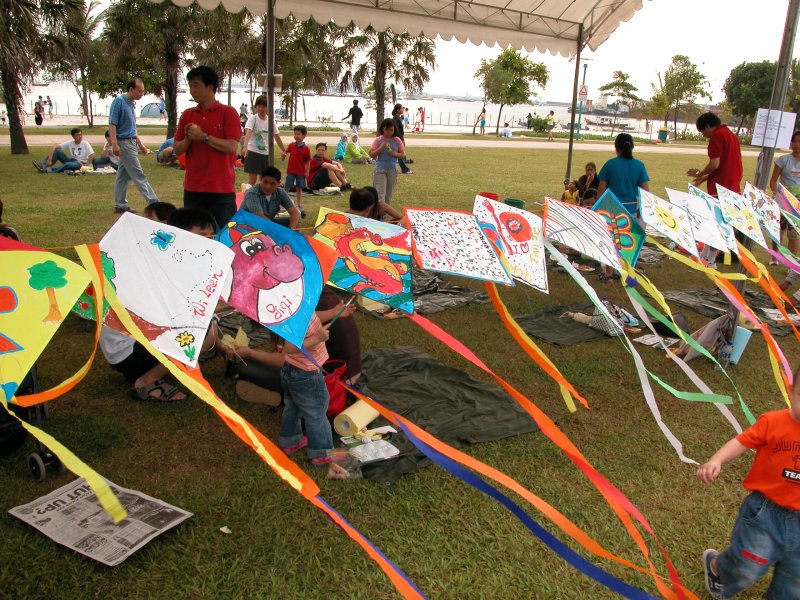 September 18-19, 2004
Kite Workshop and Painting Competition at the UIM F1 Singapore
Powerboat Grand Prix 2004
Over 80 children took part in the 2-days event at Marina Bay. Many were
thrilled when their kites flew up in the sky. These are some of the lovely kites
submitted for the Kite Painting Competition.
Ten winners received prizes from the F1 sponsors.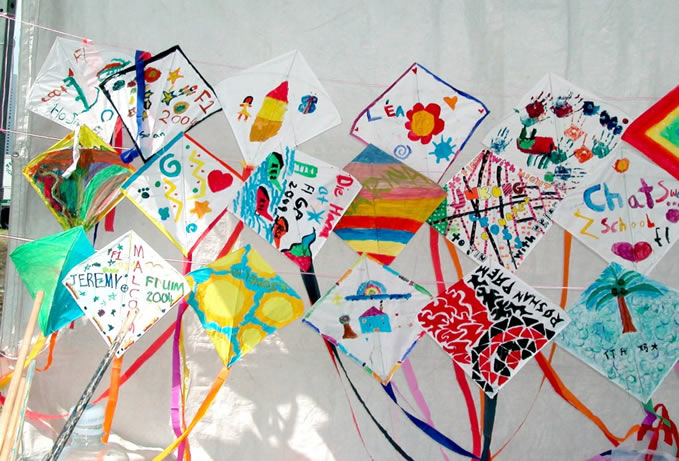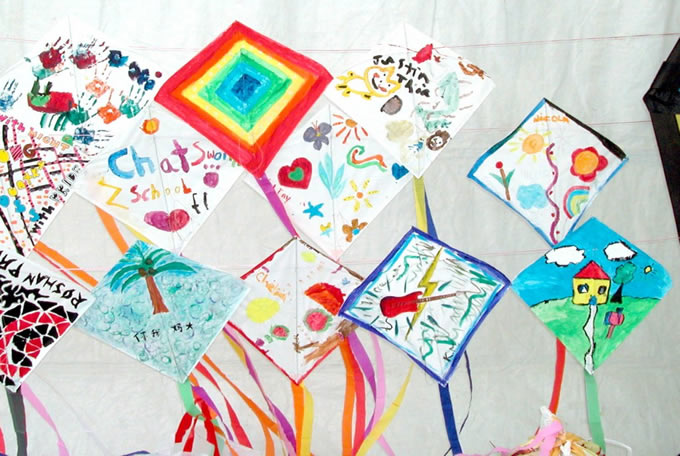 September 11-19, 2004
Marseille Kite Festival, France.
Yusni and children at kite workshop in Marseille.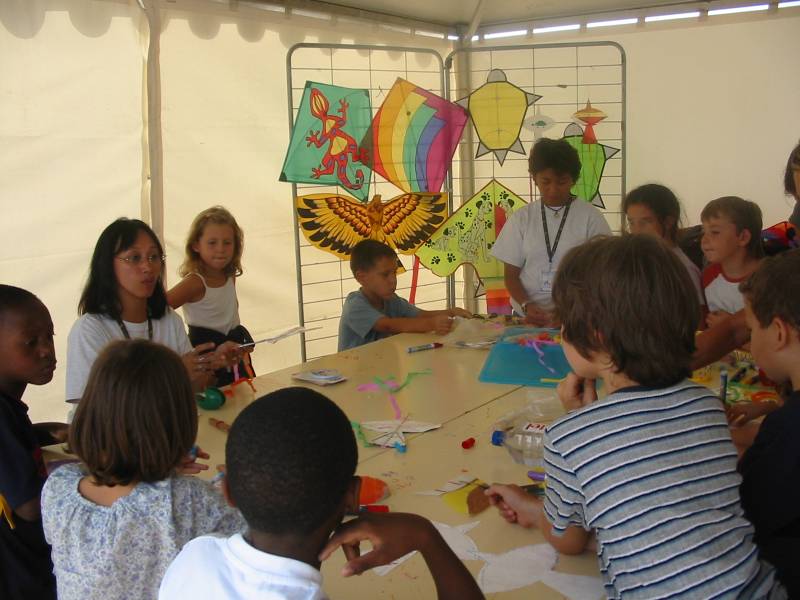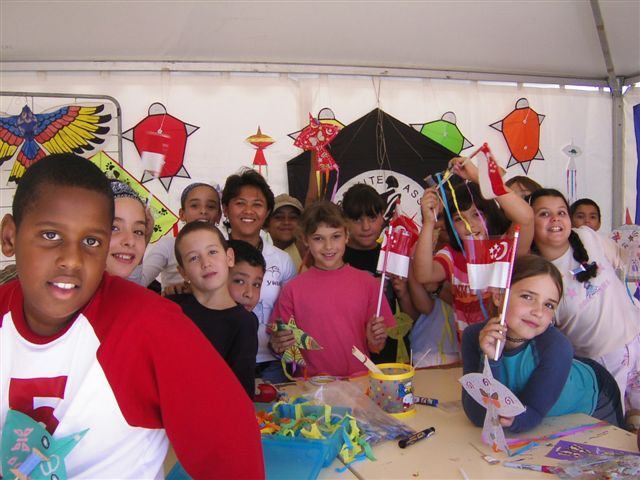 And now some of the kites seen at Marseille: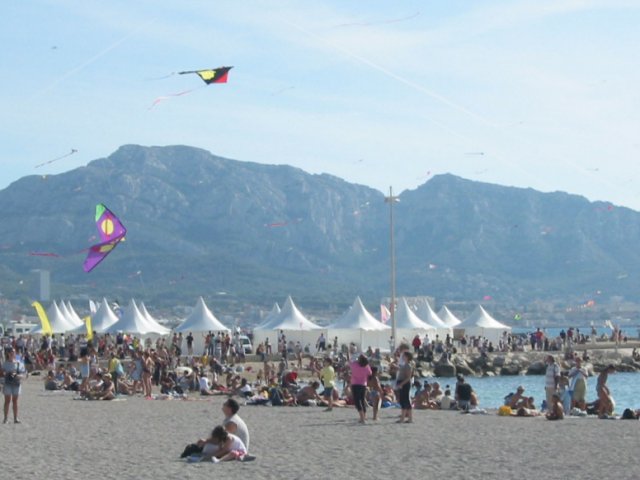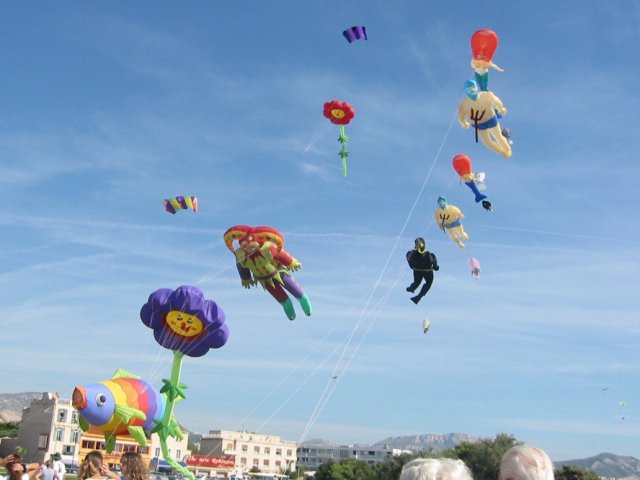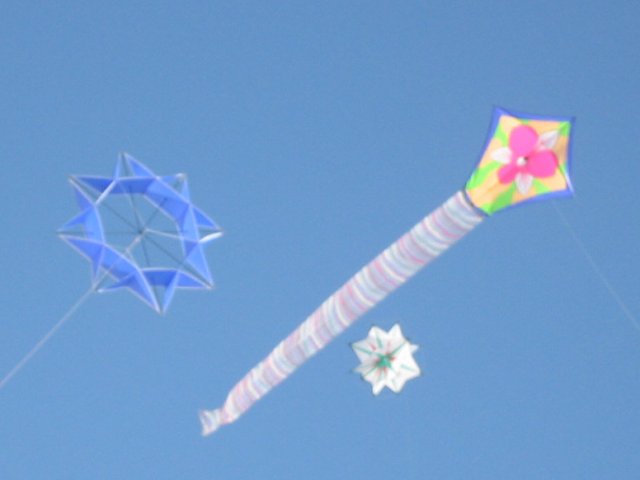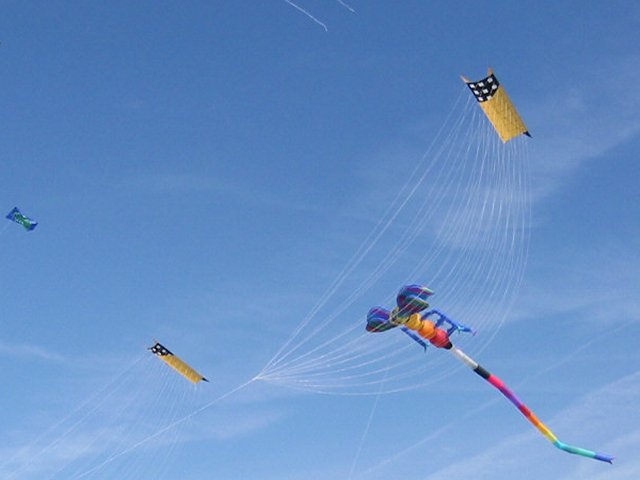 July 15, 2004
Kite workshop at Woodgrove Primary School. Conducted by Gadis and Yusni.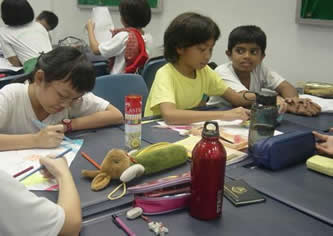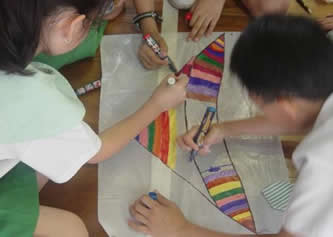 July 9-11, 2004
12th Jakarta Kite Festival
Attended by Gadis, Yusni, Siti and Azmi.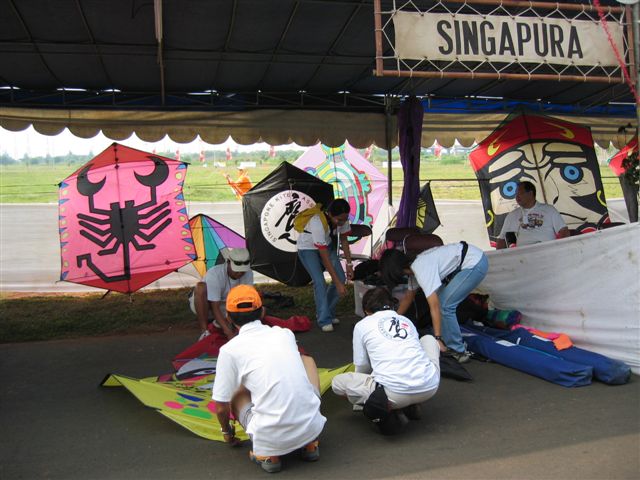 June 21, 2004

Kites in the news
June 19-20, 2004

We were invited by the Singapore Dragon Boat Association to complement their event with
Dragon Kites in the sky.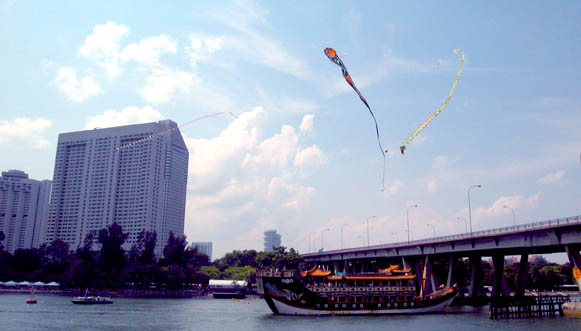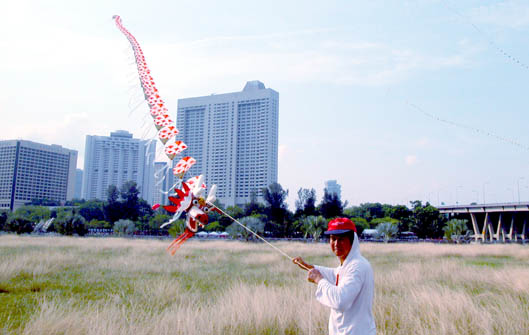 June 7, 2004

What is the wind condition in Pasir Ris today?
Click here to find out.
(Link contributed by SKA member, Kang KC)

April 27, 2004

The trash bag kite that never took off, but nevertheless made it to the newspaper.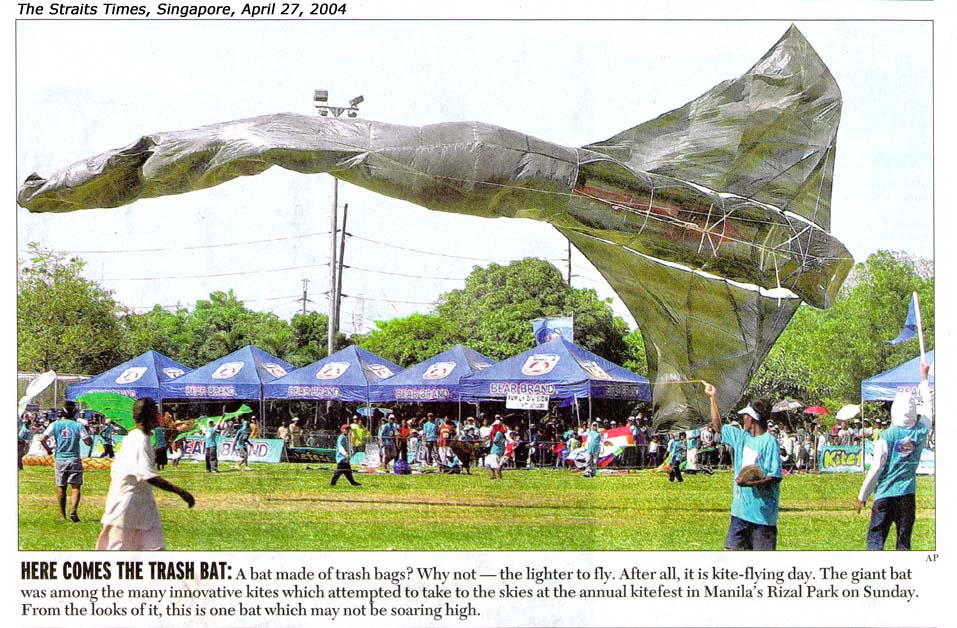 11 April, 2004

This article appeared in local newspaper under Life! section.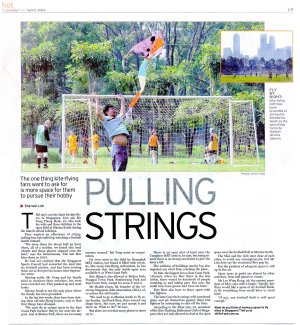 22 February, 2004

Pasir Gudang International Kite Festival 2004
Yes, SKA was there!
Here are some pics: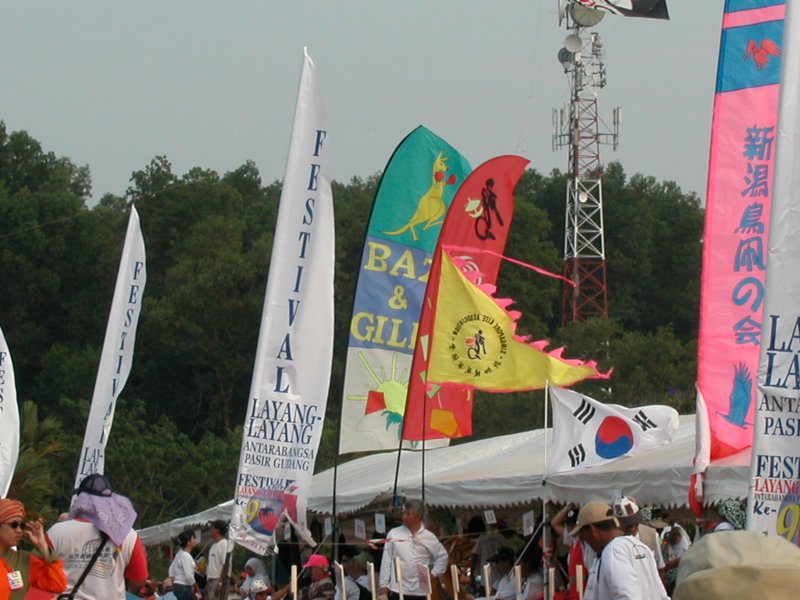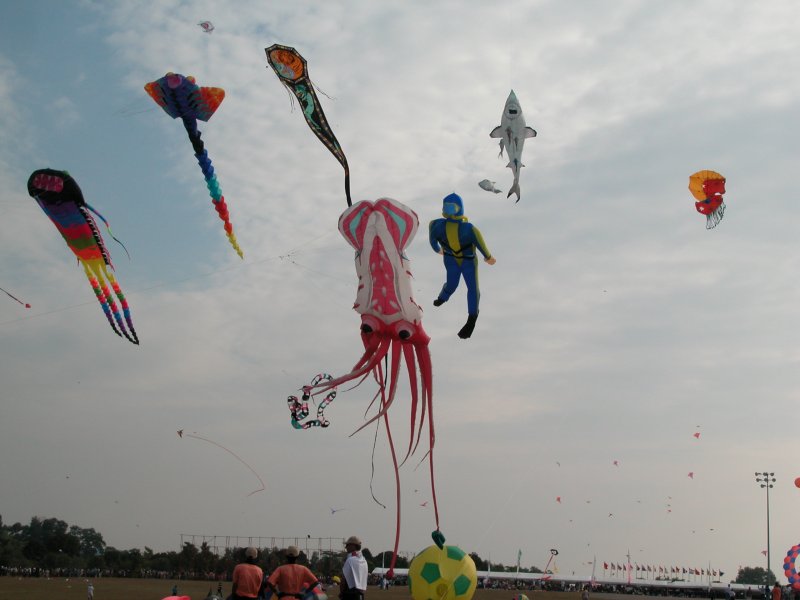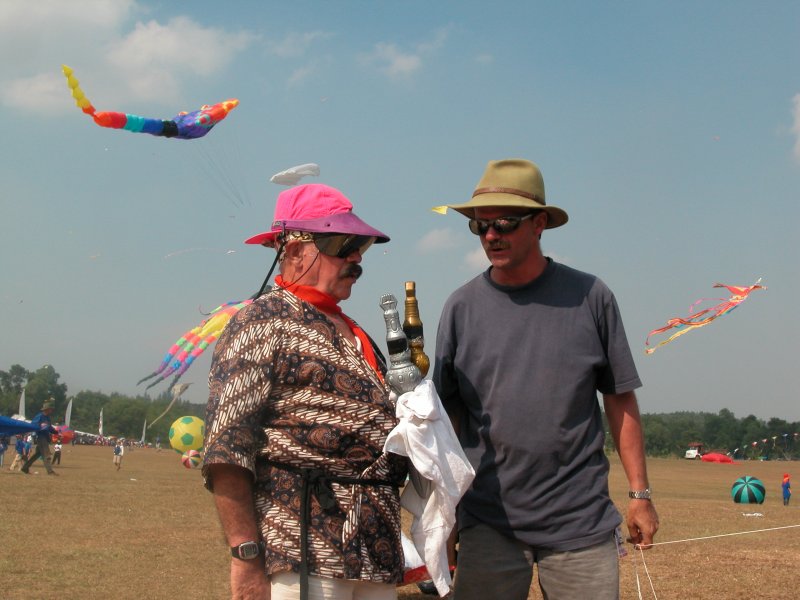 And more pics from TigerDan. Here is the link.
20 December, 2003
Admiralty Community Centre Kite Day (3:30 - 5:00 PM)
Flying was planned for open field next to Block 576. The kites never left the ground as
it rained throughout the afternoon but, kites brought back childhood memories to all
residents of Admiralty.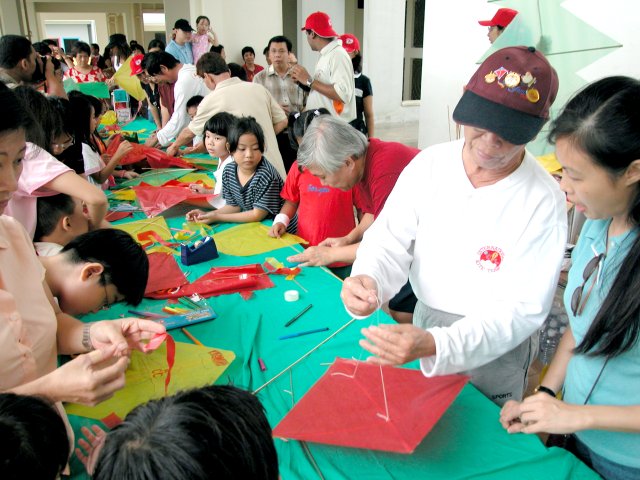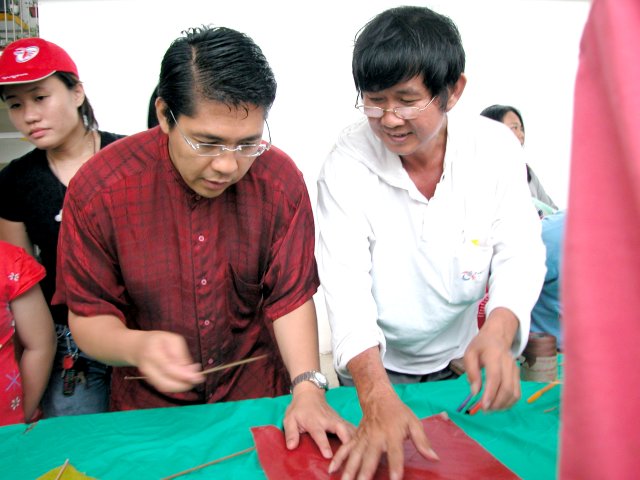 Dr Maliki, MP for Sembawang GRC (Admiralty) attempting to build a kite. SKA member
Tan Poh Wah was there to assist.

OK let's have fun with bubbles instead.
October 26, 2003
SKA 22 AGM was held at PASIR RIS PARK
New office bearers:
President : Wing Lee
Secretary : Yusni Yusof
Treasurer: Gadis Widiyati